Inside the hell of Qatar
In the middle of the desert, out of sight from the rest of the world, hundreds of thousands of foreign workers live in Qatar. They are often lured to the oil state under false pretenses. De Volkskrant investigates a world of coercive contracts, anxiety and informers.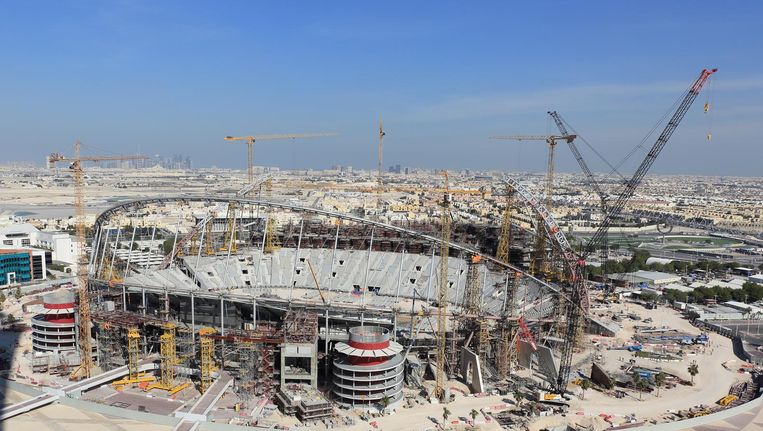 Dozens of metres above the ground, at a construction site in Doha-North, an Indian immigrant worker is dangling from a white tower crane, his head in a noose. It is 13 September 2016, and one of his colleagues hesitatingly points his phone camera at the lifeless body. Taking pictures is not allowed, so he hopes that his bosses are not watching. Click.
A few days later, three weeks before the world football Association FIFA is charged with complicity in the violation of human rights in Qatar, union official Tamal Riva shows us the photograph. He was the second Indian worker who hung himself this month, causing commotion among the workers. 'We're not sure whether it was because of the bad working conditions', Riva says, 'but I find it hard to avoid the impression that this worker wanted to be seen, that he wanted to draw attention to the problem.'
The problem Riva is referring to is 'modern-day slavery'. For three days, together with de Volkskrant and Ruud Baars of the Dutch union FNV, Riva goes from one labourers' camp to the next. It is a risky undertaking and it must all be done secretly. The camps are off-limits and unwelcome visitors have been apprehended by the police on several occasions. Construction sites are hermetically sealed off and workers are afraid to speak about what is going on in the country that will be organising the World Cup in 2022.
Over the past few years, there have been devastating reports about how Qatar exploits its immigrant workers and about the many hundreds of workers that have died at construction sites. The country promised to do better and even adapted the law in favour of employees. But what has become of all these promises? Are the immigrant workers now treated as regular people or is there still slavery in disguise, as human rights organisations maintain?
Al-Rayyan camp: fear of the snitches
45 minutes away from the capital Doha by car, in the district Al-Rayyan, plumber Hardah Gazi (37) stands in the shadow cast by one of the camp's walls. He speaks in a hushed voice, so as not to attract attention from security guards. Fear predominates. Speaking with outsiders, especially journalists, can result in a prison sentence or deportation. That is why he tells us here, outside the camp, how to reach his room, and then he goes on ahead.
The camp is not easy to locate. The brand-new motorway from Doha becomes a sand track full of holes and rocks. No more shiny SUVs. Trucks, buses and pickups dominate the picture and streetlights are becoming scarce. On the once white outer walls of the camp, the number 57 is painted in black.
Kafala system: the chokehold of the boss
The kafala system, which is common in Qatar, is the basis of much of the exploitation in the country. Foreign workers must have a local 'sponsor', often the employer. He provides the workers access to Qatar, is responsible for them during their stay and must give permission if an employee wants to change jobs or leave the country.
When the guard at the entrance leaves his post for a minute, we follow Gazi. The walkway in front of his dwelling is littered with discarded food. A rat scurries off. The overhead lamp is blinking and in front of the doors to the rooms are hundreds of sandals, which belong to the workers who live here. It is 8 o'clock at night and very, very quiet.
Inside, Gazi leans against one of the three bunk beds in his room. Two men are sleeping in the two upper beds, one without a mattress. Underneath the beds are the suitcases they packed over a year ago in India, preparing for their time as workers abroad.
Gazi is ill at ease. He tells us about 'the snitches': workers who receive a few extra euros a month to report illegal activities - speaking to outsiders, holding meetings, receiving unwanted visitors - to the camp boss. Gazi doesn't know who the snitches are, but does not doubt that they are active.
Text continues below the photo.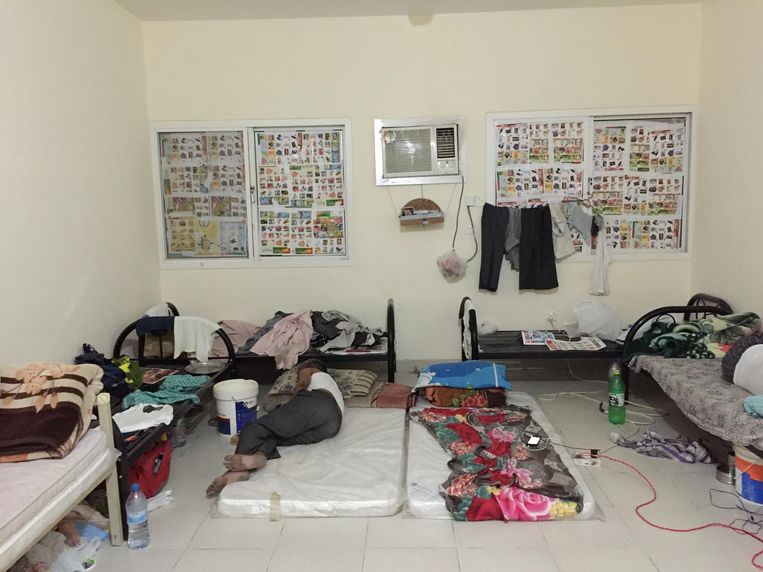 The room is not very large, some 20 square metres, and although it is uncluttered, it looks untidy, mainly because of the strings that are stretched between wooden poles for the purpose of hanging clothes. A small Indian flag on the wall reminds the six roommates what they are all doing it for: the home front.
The small Bengali is dressed in a chequered cloth around his legs and a wrinkled white blouse. At 4:30 this Monday morning, he boarded the white bus that took him to the construction site, and tonight at 7 o'clock he was back again. At the site of the railway line they are constructing in the desert, the temperature had risen to 45 degrees Celsius. Their bosses don't allow them many breaks. 'Fortunately, there was enough drinking water', says Gazi.
He has been here for 18 months now and if it were up to him, he would board a plane today and go home. But that is out of the question, as his employer has his passport, one of the consequences of the kafala system (see side bar). Moreover, he has incurred debts to come to Qatar. With his monthly salary of 162 euros - much less than the 670 euros promised to him by the recruitment agency - it will take him two years just to earn back his investment. And yet he does not revolt. 'I am too tired.'
Suddenly the door swings open. A small security guard in too large a uniform asks what is going on here. Gazi tries to reassure the man that we are friends. The man doesn't quite seem to know what to do and walks off. Soon after that we leave the camp, just to be on the safe side.
There are thousands of men like Gazi in Qatar. Men who already know now that they will be working for years just to pay off the debts they made to come here. In the middle of the desert, far from the eyes of the world and far from the scarce tourists, the Qatari have created a parallel universe for them. They are transported to the construction sites in white buses. They are wearing pale blue overalls and scarves up to their eyes to protect them from the merciless sun and the desert sand.
High walls make it impossible to see the labourers' camps from the public highway. Guards control the entrances. They are Africans, who are known for sticking to the rules and for not turning a blind eye. They see the workers returning each day, exhausted, yearning for a shower and food. And then sleep, because tomorrow is yet another day, as is the day after tomorrow. And Wednesday. And Thursday. It is a rhythm they have come accustomed to in order to survive.
The importance of that rhythm becomes clear in Area 52 of the Shahaniya work camp. Here, in the newly built beige housing blocks, some 120 workers, mainly from India and Nepal, are recuperating after six months of hell. It is still early on this Tuesday night; an old man is curled up in foetal position on a thin mattress on the floor, an empty paint bucket beside his head. He is exhausted after another day in the blistering heat of the desert.
Electrician Jaynoi has the floor, and more and more colleagues gather around him. Their gaze is dull, their heads are bowed. Many of them have paid a fortune to be able to work in Qatar, and now they are stuck here.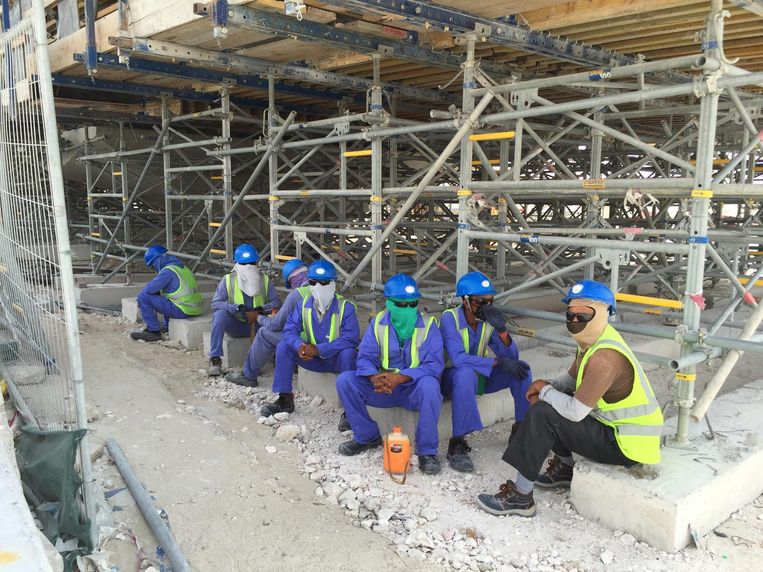 Now they are working again, but work has come at a price. In Qatar it is forbidden to change employers, but the government made an exception for them. 'On one condition: we had to sign a document. Later, we found out that we had signed away our rights to our back wages. Six months of work, for nothing!'
They feel like prisoners of the system and of the debts they incurred to come here. Jaynoi is embarrassed to ask, but he does so nonetheless: 'Please help us.'
Al Wakra camp: fear predominates
Of the 31 migrant workers de Volkskrant spoke to in six different camps in Qatar, 27 say that they would not have come to the oil-rich nation if they had known what was in store for them. Twenty workers paid money to obtain their jobs and some of them already know now that they will never be able to earn back their investment, as the wages are much lower than promised by the recruiters.
The work is much harder than they expected and the chronic lack of respect hurts their feelings. Almost all of them have witnessed 'incidents' at the construction sites, some with fatal consequences, but they are not afraid to die. The overpowering feeling is one of shame: they have allowed themselves to be lured to Qatar by fraudulent recruiting agencies and misleading advertisements, and now they no longer feel they are humans, just numbers. They feel they should have known better.
When you speak to handymen such as Mehedi and Rama, electrician Jaynoi or plumbers Gazi, Arrafat and Sahar, it is clear that they all feel betrayed by their host country.
Modern-day slavery is how the Dutch union FNV and the international union BWI describe the situation of the workers. Tamal Riva, Ruud Baars and their unions came to an understanding a few years ago: they have to protect the migrant workers in Qatar. They find it a disgrace that one of the world's richest countries is exploiting and exhausting its workers and, in some cases, killing them. For a football tournament.
They are aware that there are many countries where workers are having a hard time and have to work for a pittance. 'But at least they are free to go where they please', says Baars. 'They can quit if they don't like it or go to a judge if they suffer injustice. Here, they are powerless.'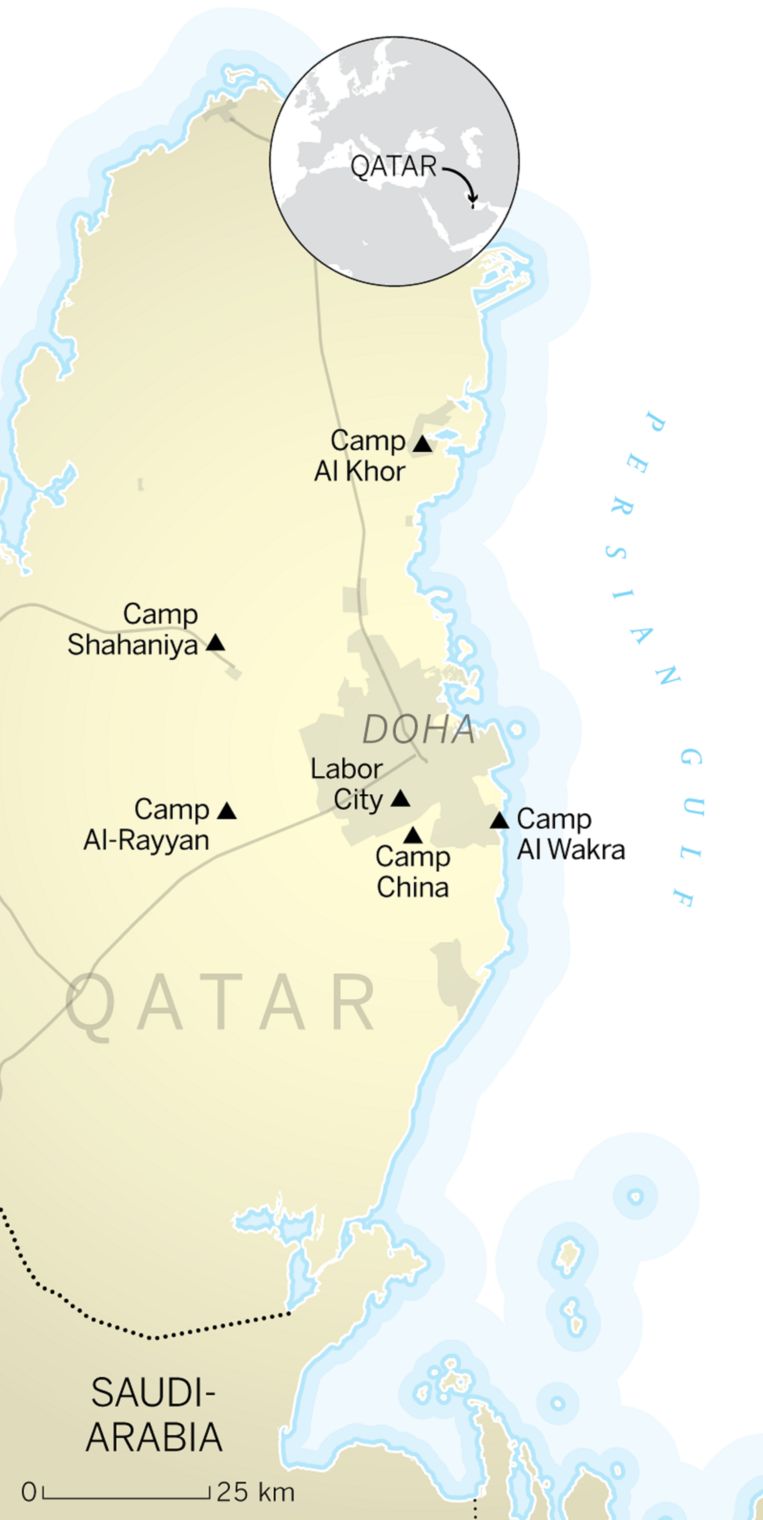 There are more Indians (630,000) and Nepalese (400,000 In Qatar) than Qatari. Since the World Cup 2022 was granted to Qatar, the country's population has risen by 750,000 and now stands at 2.5 million people. 90 per cent of the workforce consists of migrants, most of them working in construction. They are building a whole new country in Qatar but were lured here under false pretences.
The building frenzy that started after the country was granted the World Cup by the world football association FIFA in 2010, knows no limits. Everywhere in the desert sandy plains have become construction sites. From harbours to railway lines, from stadiums to museums, motorways and bicycle paths: no effort is spared to make sure that the country will look like paradise in 2022.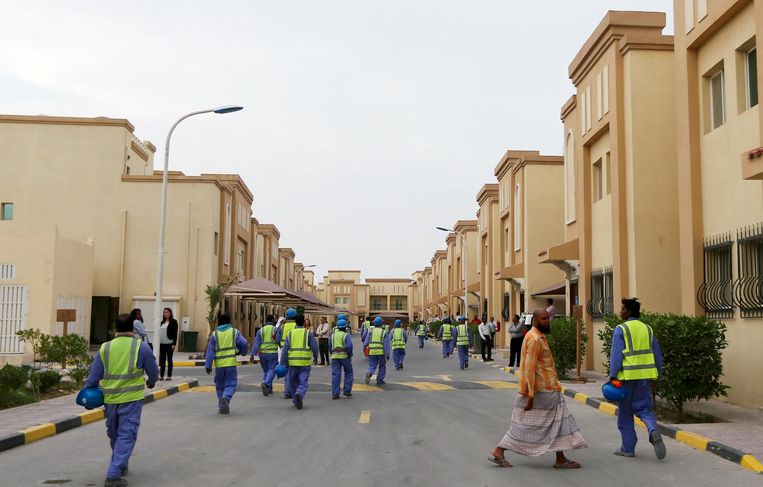 Labor City: the model camp for foreign politicians
The labourers' camp Labor City, just outside Doha, is a model camp. The contrast with other dwellings we have seen is stark. The access roads are wide, and security is easily circumvented. Still, FNV-man Baars stays in the car. With his large figure, long moustache and grey hair in a ponytail he would stand out too much among the smaller workers, most of them with darker skin.
Stadium worker Somba Mutal invites us into his room. It is clean, the floor shines. He shares this room with just three others, which is an unheard-of luxury. There is a window with a curtain and some large grey cupboards. The edges of the beds have adjustable holders for their smartphones, so that they can Skype with their families while laying down. There is an emergency plan on the door, just like in a hotel.
Labor City was completed in 2015 and can accommodate 70,000 workers. There are shops, cinemas, mosques, a cricket ground and a theatre. This is where the Qatari take foreign politicians, investigators and journalists to show them that the stories about worker exploitation in Qatar are grossly exaggerated.
Qatar received negative press worldwide because of the abominable working conditions for workers on World Cup-related projects. Ironically, the main reason why Qatar wanted to organise the event was to show to the world the many good things the country has to offer. In order to stifle criticism, working conditions for the stadium workers in particular were radically improved and many of them reside in this camp. For others, however, for example the people working on infrastructural projects related to the World Cup, nothing has changed.
We arranged to meet ten stadium workers on the private first floor of a glorified restaurant, just outside the camp. They all come from India and work at the Al Kalifa stadium in Doha. They belong to the lucky ones. They still have their passports and the working and living circumstances are 'not bad', as they say.
Still they look beaten down. This is partly because of their low wages, which make it impossible for them to ever pay their debts. This means there is hardly any hope of change. Their speaking with representatives of unions and a journalist, is all the resistance that can be expected from them.
A few minutes later, it becomes evident why they are so docile. Two large, bald-headed men have seated themselves at another table. They are within earshot and take photographs of the workers and the men in their company. Union worker Riva urges us to no longer ask critical questions and the conversation falls silent. Riva assumes that the men work for the government and are not here by coincidence. It has happened before that workers, union workers and journalists were arrested for discussing work conditions.
Riva and Baars refuse to be intimidated. Especially in Qatar, so affluent because of its oil money, workers should not have to suffer in this way, they feel. 'This goes to the heart of what union work is', says Baars. 'What is happening here, offends my sense of justice. I will not be stopped by people like that.' As soon as we settle our bill, the men also leave.
What strikes Baars as most poignant is that the workers have completely lost their fighting spirit. They will do as they are asked: serve out their long-term contracts and then go back to their native countries, stripped of illusions and often penniless. New cohorts are already waiting in the wings to replace them.
One month after the Indian worker hanged himself, the police of Qatar are still investigating the case. The idea that his suicide may be related to the work conditions is 'unlikely', according to the authorities.
For safety reasons, the names of union worker Tamal Riva and of the migrant workers are fictional.