FIFA president Infantino violated code of ethics with voting advice
FIFA president Gianni Infantino has violated the world football's governing body's code of ethics. According to sources of De Volkskrant, who spoke on condition of anonymity, the 46-year-old Swiss gave voting advice concerning who should be elected as the new president of European football union UEFA. Last May, Infantino sent an 'advisor' to a meeting of the northern European football associations in Milan to tell them that Aleksander Ceferin should become the next president of UEFA.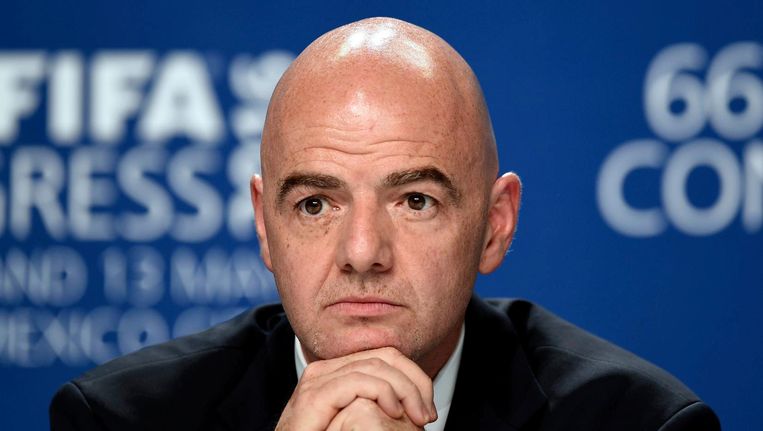 FIFA's code of ethics dictates that employees of FIFA shall 'remain politically neutral' in dealings with associations. A spokesman for FIFA's ethics committee says that all relevant complaints and information will be examined, but that 'the Investigatory Chamber of the FIFA Ethics Committee can only inform once formal proceedings are opened'.
Infantino's message was delivered by his Norwegian advisor Kjetil Siem, who earlier that month had been appointed by Infantino as strategic director of FIFA. Some of the FA leaders attending the meeting were dismayed by his message. A few days later, however, four of the Northern European associations - Sweden, Denmark, Norway and Finland - announced their support for Ceferin.
In a written statement FIFA denies any wrongdoing: 'Kjetil Siem was not sent on behalf of the FIFA President to Milan. At the time of the meeting, he was still an employee of the Norwegian Football Association. With regard to the UEFA Presidential election, it is up to the members of UEFA to choose their new President. The FIFA President is not involved in these elections and does not support any particular candidate.'
Official investigation
Infantino's involvement is a setback for Dutch FA president Michael van Praag. The Dutchman, Ceferin and the Spaniard Angel Villar are the contenders for UEFA's presidency at the moment. Other candidates have to express their interest on Wednesday at the latest. The 55 European football associations will elect the suspended Michel Platini's successor on the 14th of September in Athens, Greece.
Van Praag, who has always publicly backed Infantino, was informed by multiple European FA leaders about the FIFA president's prohibited voting advice. Asked by De Volkskrant, Van Praag says he confronted Infantino in his hotel room in Milan, where the European football heads were gathering because of the Champions League final. Infantino denied that he favors Ceferin. Van Praag: 'He was angry that this story went around and said he could never afford something like this, being the president of FIFA'.
In the upcoming days FIFA's ethics committee will probably determine whether they will open an official investigation into Infantino because of previous accusations. He is accused of unlawfully appointing and firing employees, unauthorized use of private jets and declaring private expenses. An official investigation by the ethics committee could eventually lead to a suspension of the FIFA president.
Increase of power
Infantino succeeded his controversial 80-year-old countryman Sepp Blatter last February as the president of FIFA. He announced reforms to restore FIFA's credibility, which had been tarnished by an ongoing corruption scandal that led to the arrest of several officials. In the meantime, his own integrity has been heavily questioned.
In the past months Infantino has tried to expand his power as the head of world football. Shortly before FIFA's annual congress in May in Mexico, he created a plan to remove Domenico Scala as the head of FIFA's audit and compliance committee. The installation of Ceferin, a young lawyer who is close to Infantino, can be seen as another step to increase his power.
Kjetil Siem was the secretary general of the Norwegian FA for the past four years. This year he got heavily criticized for his refusal to make public what officials, including himself, claimed in expenses. He eventually gave in under public pressure. Almost immediately afterwards it was announced that he would join FIFA. 'I am very happy to have Kjetil Siem aboard', Infantino said on the website of the Norwegian FA on the 18th of May, a week before the meeting of the northern European countries took place.