Report
Turkey
Turkey becoming more Islamic? On the contrary
Is Turkey becoming more Islamic? Not at all, religion plays an increasingly less important role in the lives of Turkish citizens. But outside of Turkey hardly anyone has noticed this transition in society.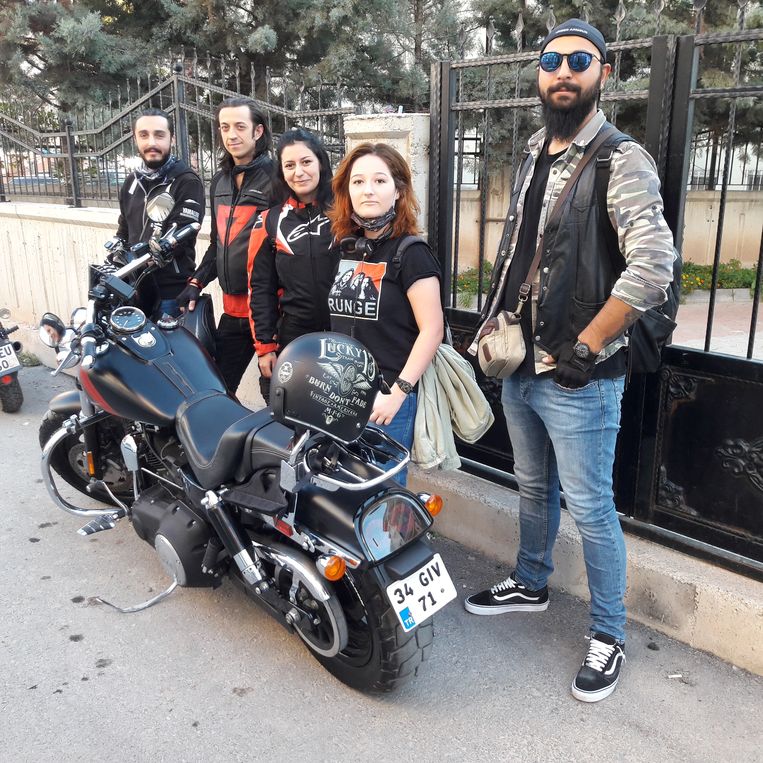 Fasten your seatbelts, because we are in Aksaray, a medium-sized city in Central Anatolia, halfway between Konya and Kayseri. This is the most conservative part of Turkey. Stronghold of the AKP, the party of Recep Tayyip Erdogan, the man who stands up for the faith and punishes Europeans for mocking the Prophet.
The president of Turkey has free rein here. Together with his coalition partner MHP, he scores roughly 90 percent in elections in Aksaray. More than anywhere else, he should be able to implement his agenda of Islamization in this core region. More than any other city, Aksaray offers him the opportunity to raise a "pious generation", Erdogan's repeatedly proclaimed project for Turkish youth.
What can be seen of this in the streets of this neat, not really bustling provincial town?
Nothing.
Yes, there are mosques, like everywhere in Turkey. And yes, the call to prayer blares out a few times a day, as has been customary in Turkey for centuries.
Furthermore, the image of the city center is determined by what is nicknamed Café Street. Stylish restaurants have sprung up like mushrooms after a rain here since a university was established in the city more than ten years ago. Restaurant Mado shines chic next to Hugo Lounge, we pass by coffee house Golden Brush and pizzeria Amsterdam. Thousands of guest workers from this region once migrated to Western Europe.
Had Corona not shut down the university, the terraces would have been full of young people, of both sexes, the women with headscarves as well as without. But there are also plenty of them on this sunny autumn day, boys and girls who do not differ in appearance from their peers in the fashionable districts of Istanbul and Izmir.
"Look! Can you see that?" While walking through Aksaray, Volkan Ertit, a sociology teacher at the local university, points out a group of unveiled girls across the street. Three out of five wear a sweater that leaves the belly amply exposed. "Where is Islam? Well? And their fathers probably vote AKP. "
Social changes
A little later, in Kumpir House restaurant, we meet five young people wearing leather jackets. They all ride motorcycles, including Marve Uzla and Tuba Gök, the women in the group. It will be a candid conversation of hours, illustrating the social changes Turkey is going through as the generations turn.
Enes Karakaye (28) has just finished his musicology studies. He comes from a "typical, traditional Turkish family", he says, with a poorly educated, very conservative father and a devout, veiled mother, who luckily is easier to talk to than Dad. "They both support me", although his life path took a different direction.
He drinks alcohol, plays music in cafes and hints that as a local guitar hero - sharp goatee, sunglasses and cap - he picks up girls easily. Which is certainly not in accordance with the rules of Islam, but he does not care. "I believe in a Creator, but the Quran was once written by humans. I try to be a good person, I have my own rules, I don't let anyone tell me what to believe. Certainly not a religion from 1,400 years ago."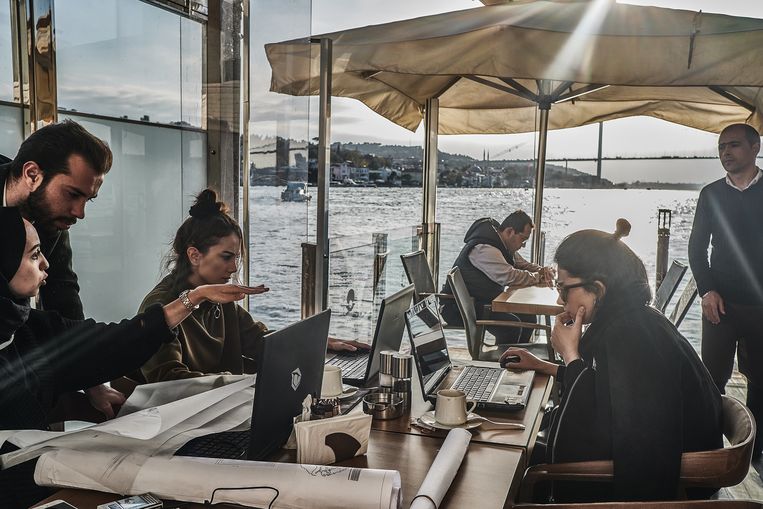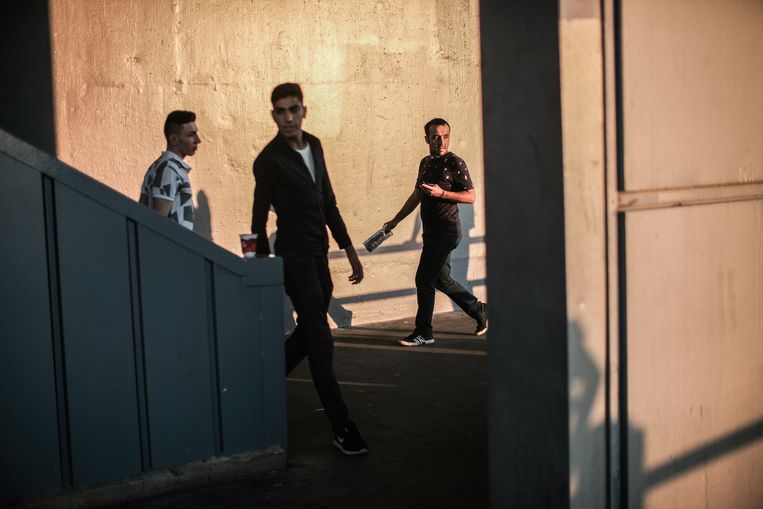 Can Çevik (24), ICT student, has a similar opinion. Gnawing doubts and conversations with friends recently made him fall from his faith. He now calls himself a "deist": someone who believes that God created the earth, but then took his hands off it - mankind has to find out for themselves.
Still, Can and Enes are more religious than their friends, because all three of them declare themselves atheist, agnostic or non-believer. In fact, 23-year-old Tuba, who just completed her master's degree in biotechnology and molecular biology, is a "shamanist, anarchist and feminist", she says. In high school, she became "pissed off with God" because children in Africa are starving.
Her mother was terrified that her daughter would go to hell, but now it is no longer a topic of conversation. And also Tuba - T-shirt with GRUNGE - calls herself old-fashioned in a sense: "I love the writers of the American beat generation and sixties rock. Grateful Dead, Jefferson Airplane, Bob Dylan. "And oh yes, the Clash! "Do you know that Joe Strummer was born in Ankara?"
No Islamization but secularization
Young people like these highlight a social change that is little known outside Turkey. Turkish society is not Islamizing, as Erdogan and his AKP would like to see, but secularizing. Modernization is accompanied by a steady decline in the influence of religion on daily life. Is Turkey becoming more Islamic? On the contrary. Numerous studies confirm that religion plays an increasingly less important role in the lives of Turkish citizens.
Let's turn things around. Suppose Turkey were becoming increasingly Islamic. Then you would expect Islam to gain more adherents and be more devoutly practiced.
The opposite is the case. According to research by the Konda agency in 2018, the number of atheists and other non-believers had risen from 2 to 5 percent of the population in ten years. The number of people who believe in God, but not much more than that, increased from 31 to 34 percent. The number of devout Muslims fell from 13 to 10 percent. Fasting during Ramadan? From 77 to 65 percent. This is the continuation of a trend that was already observed in 2012 by political scientist Hakan Yilmaz of Bosporus University, in his book Conservatism, Family, Sexuality and Religion in Turkey.
But that formal decline of religious practice, says sociologist Ertit, is how secularisation is measured in Western Europe. In non-Christian countries, that cannot be the only criterion. After all, you are not a "member" of Islam and "Muslim" is also a cultural identity. Because Islam is a religion that wants to regulate all aspects of daily life, it is precisely daily life which must be considered. Then we can tick off a series of criteria.
Clothing
Suppose Turkey were becoming more and more Islamic. Then you would expect more women to wear the headscarf and other modest clothing.
The opposite is the case. The street scene is increasingly determined by modern women as can be seen almost all over the world. For many, arms and legs are not covered. This is evident in cities such as Istanbul, Ankara and Izmir, but this trend is also visible elsewhere, in the southeast and, indeed, the "Koran belt" of which Aksaray is the center.
According to the Konda study, the number of women without a headscarf rose from 34 to 37 percent in ten years. The number of women with the tighter hijab dropped from 13 to 9 percent. The headscarf retreat is a continuation of a longer trend. Yilmaz had already seen a decline in the decade before.
The change per generation is crucial. Usual is: mother with headscarf, daughter without. The uncovered Tuba and Muzla, and many of their friends in Aksaray, also have veiled mothers. This is so obvious that its social significance is often not realized. Ertit: "Do I see mothers with a headscarf and daughters without them on the street, or vice versa? No doubt about it: on average, much more the first. "
Moreover, the clothing of young, veiled women is becoming less and less Islamic. Headscarves are becoming more fashionable, often with jeans or other tight clothing underneath. It must be an abomination to the strict believer.
If the rise of the "mipsters" (Muslim hipsters) is visible anywhere, it is in the Cengelköy district in the Asian part of Istanbul. The traditionally conservative neighborhood is undergoing a gentrification like secular neighborhoods previously experienced, with galleries, colorful bric-à-brac shops and restaurants for the fans of caffè latte and vega lunches. "Well-educated, conservative Muslims can live a modern big-city life here", says the (headscarfed) urban sociologist Tuba Dogun, who obtained her PhD on the phenomenon.
Social prestige
Other criterion. Suppose that Turkey does indeed Islamize, then the social prestige of Islam should increase.
The opposite is the case. Previously, when most Turks lived in the countryside, the Imam was consulted for everything: marriage, health, family problems, upbringing, career choice. Nowadays, with the vast majority of people living in the city, people are turning to professionals. The imam has been reduced to an official who reads a sermon written by the government agency Diyanet on Friday.
Also illustrative: fewer and fewer babies are given an Islamic first name. While the top five for girls in the last century were still names of female relatives of the Prophet, nowadays they are not even in the top ten.
LGBTI people
Fourth criterion. Suppose that Turkey does indeed Islamize. Then you would expect that there is less and less room for gays, lesbians and transgender people.
The opposite is the case. Yes, LGBTI-hostile language from the AKP has risen sharply since 2015, and this spring, the country's top imam, Diyanet boss Ali Erbas, launched an anti-gay sermon at the start of Ramadan. However, support for LGBTI people is growing from within society. Actors and singers are speaking out on social media and polls show that tolerance is steadily increasing.
The LGBTI movement has gained momentum, boosted by the 2013 Gezi protests, when even football fans joined gays and lesbians. The 2014 Istanbul Pride was a festive procession of tens of thousands through Istiklal, Turkey's busiest shopping street. Officers looked on benevolently. Even weeks later, the rainbow flags hung over Istiklal. Moreover, the Prides have been banned since 2015 on the basis of public order, not because Islam rejects homosexuality.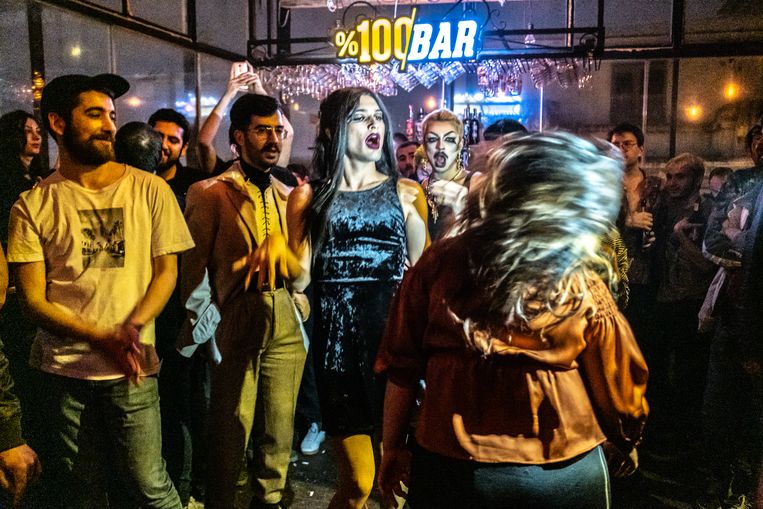 This issue very well makes clear the distinction between state and society. The AKP can want anything, but this does not mean that the Turkish population is willingly moulded on the conservative model devised by the ruling party. In Turkey, too, society can only be engineered to a limited extent. Even Erdogan has now admitted that his AKP has failed to establish "cultural hegemony".
"The AKP", says Ertit, "has failed to Islamize Turkey in eighteen years, despite all the resources available to the government." In other words, Erdogan has failed.
What happens to Turkey is not primarily determined by what is decided in Ankara, but by profound processes of modernization: economic growth, capitalism, huge increases in education, smaller families, the Internet and urbanization. No country has urbanized as rapidly as Turkey. The conservative mores of the countryside are over.
Morality and women's rights
Suppose Turkey were Islamizing. Then you would expect, for example, that the Islamic rules on morality would be followed more closely.
The opposite is the case. More and more young people are having premarital sex and changing relationships. The marriage age has risen. When Erdogan argued for separate student houses for boys and girls, the reaction in and outside Turkey was: you see, things are going in the wrong direction! The social reality: young people increasingly live together unmarried.
When asked, the students in Aksaray have no problem with premarital sex. Even the one night stand does not meet with moral objections. "Everyone should know that for themselves", said 23-year-old Tuba. She herself had no boyfriend until now, but well: "I don't want to get married and I don't want children."
Guitarist Enes ("I had a lot of girlfriends") has two explanations for the increase in dating in Aksaray: smartphones and the arrival of the university. It now has 18 thousand students, almost all from large and small cities in conservative Central Anatolia. "Being here without their families, they do what they want. And no longer secretly, as before."
Marve Uzla (25, biotechnology) and Sezer Ataman (28, mechanical engineering) have been in a relationship for three years, and they are cautiously thinking about getting married. They live alone, sometimes they sleep together. "My family knows that, except my father", Marve says. "But I don't think he will be very angry. Last week there was an earthquake. My mother called and said, let Sezer stay with you tonight!"
Sezer starts a sentence, hesitates for a moment, then is encouraged by Marve with a cheerful "Just say it". "I've had a lot of sex", he says. "One night stands, steady friends, everything. I have lived an exciting life in Aksaray. That's why I don't care how many boyfriends Marve has had. We have the same rights." Marve, laughing: "More than two!"
One more criterion to go. Suppose Turkey, as Erdogan wants, becomes more Islamic. Then you should expect women to become more submissive.
The opposite is the case. Despite the harsh headwinds of political Islam, the position of women has improved in many Muslim countries. This is due to social processes such as urbanization, birth control and access to education and the labor market. This has also happened in Turkey, to an even greater extent. The number of children has decreased to a Western European level. The women's movement is powerful. Women's rights have been legislated, thanks in part to the AKP.
Sure, from time to time Erdogan makes a statement that horrifies Turkish feminists, but most of the time it's just that: a statement. It hardly ever leads to laws or regulations.
Islamic education
On one point, the AKP has turned conservative rhetoric into action: Islamic education. The government has put a lot of money into the Imam Hatip schools, where students are taught many hours about the Quran and the life of the Prophet. However, the project has failed. Parents prefer to send their child to the best school, not to the most pious. The Islamic schools have become the problem child of Turkish education.
Moreover, the cultivation of a "pious generation" does not make much progress on the Imam Hatip either. The Ministry of Education conducted research on Islamic schools in the conservative city of Konya in 2018. What turned out? Deism has boomed on Imam Hatip. Many students still believe in God, but are no longer dictated by religion how to live.
At an AKP meeting, Erdogan called Education Minister Ismet Yilmaz to the stage. Because he did not know the microphones were open, everyone could hear how he called the bewildered minister to order about the investigation. "It can't be true!", exclaimed the president.
For two hundred years, elites in Turkey thought they could model the country after their ideal, says Soner Cagaptay, Turkey director at the Washington Institute for Near East Policy. "That time is over. The Jacobean model of modernization no longer works. Kemal Atatürk wanted to make Turkey secular and European. Erdogan has his own image of the country: conservative and Islamic. But social engineering is a thing of the past. For the first time, society is taking the lead and the government is struggling to get behind."
Erdogan's attempt to breed a pious generation, Cagaptay says, has resulted in the opposite: the more you push it down people's throats, the harder they reject it. "That's the great irony. Maybe he's leaving Turkey more secular than Atatürk ever dreamed of."
Sociologist Ertit was the first to realize this in 2015. He wrote a book about it. The English-language summary was entitled "God is dying in Turkey as well". Secular colleagues declared him crazy. They did not allow their beloved fear - Erdogan's Sharia state - to be taken away that easily. The criticism has now died down.
Three years ago, the British Council, together with Turkish academics, conducted an extensive survey of the views and values of Turkish youth. Although they wisely avoided asking about religion and politics (too sensitive), Next Generation Turkey provides a fascinating picture of a generation that is open and tolerant in life. Noteworthy is the importance attached to the environment and gender equality. But many young people also dream of an existence abroad - and of course not Iran or Saudi Arabia, but Europe or the US.
Generation Z
Lately in Turkey there has been a lot of talk about Generation Z, the cohort born after 1995 that will make up 12 percent of the electorate when a president and a parliament are elected in 2023. A crucial moment for Turkey: where is the country going?
Erdogan has won elections by just 50 percent so far. The scales could aso tip the other way and Generation Z could become the deciding factor. However, secularization does not translate one-on-one into fewer votes for the AKP. Erdogan's electoral potential is largely due not to his Muslim profile, but to his successes as a vigorous administrator and - most recently - as the representative on the world stage of a proud nation. And the Turkish economy has been doing great since 2002, when the AKP took over.
However, in 2018, Turkey fell into recession, followed by the corona. Erdogan therefore realizes how important Generation Z will be in 2023. At the end of June, on the day before the final exams, he organized a #Meet TheYouth on social media. It turned out to be a disaster. The president received an avalanche of negative reactions and soon the hashtag #NotMyVoice went viral.
So they promise to be exciting, the elections in Aksaray and surrounding area. Erdogan will have a hell of a job doing it.
LITTLE SUPPORT FOR SHARIA IN TURKEY
The number of Sharia adherents in Turkey is much lower than in other Muslim countries, according to a large international survey by Pew Research in 2013. In Turkey, 12 percent thought that Sharia law should become official. The percentages elsewhere: Morocco 83, Egypt 74, Pakistan 84, Jordan 71, Indonesia 72, Afghanistan 99. In addition, the number of supporters of strict Sharia law (stoning, death penalty for apostates) among the Turkish supporters of the Sharia is much lower than elsewhere.