The effect of Wilders' permanent protection
What is the effect of the permanent protection of Geert Wilders on him and on the government? The Volkskrant conducted an investigation and discovered an undercover operation in Denmark.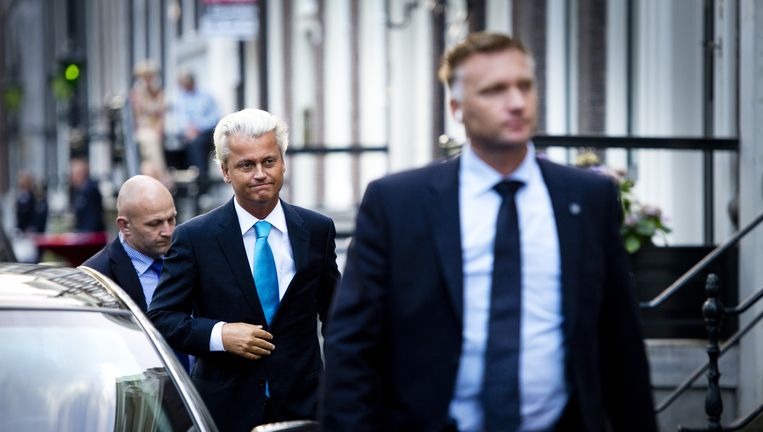 Geert Wilders has just unwrapped a present he was given and looks slightly baffled at the man who gave it to him. Why would he need a suitcase? 'This suitcase', explains the Danish man, 'once belonged to an Israeli general who kept in it the plans for the Six-Day War of 1967.' Wilders looks surprised as he holds the present a little clumsily. His host tells the Dutch politician that the present was bought especially for him on eBay. A historic object from his beloved Israel, surely he must appreciate such a thing.
Wilders thanks the man enthusiastically. He looks around the room and fixes his eyes on right-hand man Martin Bosma. Wilders is a bit nervous, but in a good way. He is about to do something special. Something he has not done before but has been wanting to do for a long time. He's looking forward to it.
This morning, Wilders, Bosma and a handful of security guards flew in to Copenhagen at the invitation of Mads Brüger, an exceptionally tall, bald Danish filmmaker and journalist who likes a bit of excitement and controversy. He's the talk show host of The Eleventh Hour, a show that receives good ratings on the Danish public service.
A couple of weeks ago, Brüger suddenly sent him an email. He'd read in a Danish newspaper that Wilders couldn't find anyone to broadcast his anti-Islam film Fitna. That is exactly something he'd be interested in, wrote Brüger. His employer DR2 had already showed the controversial film Submission by Dutch filmmaker Theo van Gogh. His idea was to show the film and, after that, interview Wilders in his program. Brüger thought it was a great idea. An interesting proposal, replied Wilders.
A few days later, there was another email from Denmark, this time from Brüger's boss Arne Notkin. Brüger had told him the plan. But, wrote Notkin, he'd want to see Fitna first, otherwise he wouldn't be able to decide whether or not to air it. He wondered if a copy of the film was available.
Absolutely not, Wilders had replied immediately. He was terrified of the contents being leaked. A very small group of confidantes have been involved with the project, but apart from them he has shown the film to no-one in the Netherlands. Even the request of the National Antiterrorism Coordinator Tjibbe Joustra had been resolutely rejected. That Wilders even considered to show the film to the Danes is therefore surprising.
'I'll bring the film to Copenhagen myself', he wrote Notkin.
Hidden agenda
So, on the morning of Tuesday March 18, 2007, Wilders drives from the airport to the Danish public broadcasting network. The Dutch security agency DBB has, as usual, checked out the route a couple of days before: looking for possible sniper positions, contacting hospitals. It's cold, about zero degrees, too cold for the time of year. The network resides in a brand new, pompous office building on the edge of a working class neighborhood. Just after 10 o'clock, the armored Mercedes carrying Wilders and his entourage enters the warehouse at the rear of the building, where satellite trucks and trucks carrying video equipment usually load and unload their cargo. Here, the Dutch politician can exit the vehicle and enter the elevator unseen.
Wilders is in an excellent mood. Tension doesn't surround the film as much in Denmark as it does is in the Netherlands. Here he doesn't need to be as alert as back home, where everything he does is scrutinized by the media, fellow politicians and intelligence agencies. He does not have a history with these Danish journalists and their network, now known around the world because of series like Borgen and The Killing. It's new ground and he's treated with hospitality.
But Wilders is unaware that there's a mole in the small group of people he's about to meet. Someone with a hidden agenda.
Only a small company will momentarily watch Fitna on the fourth floor of the Danish network's office, in a standard meeting room with practical furniture, an ugly tiled ceiling and a television on the wall, from which a messy tangle of cords is connected to the sockets. In addition to Mads Brüger and his boss Arne Notkin a couple of journalists are present, as are an assistant to the editors-in-chief and Deputy Director Merethe Eckhardt of DR2. They have to assess the legal consequences of a possible airing. It's a select crowd.
On the table are served tea and coffee and a plate of smörrebröd, a traditional Danish dish of rye bread with toppings that is usually served for lunch. Expensive, fancy sandwiches that were brought in especially for Wilders from the famous lunch room Aamanns in central Copenhagen.
Wilders doesn't know, however, that the Danish intelligence agency PET is very interested in the showing in the Danish capital. That PET employees are everywhere in the building.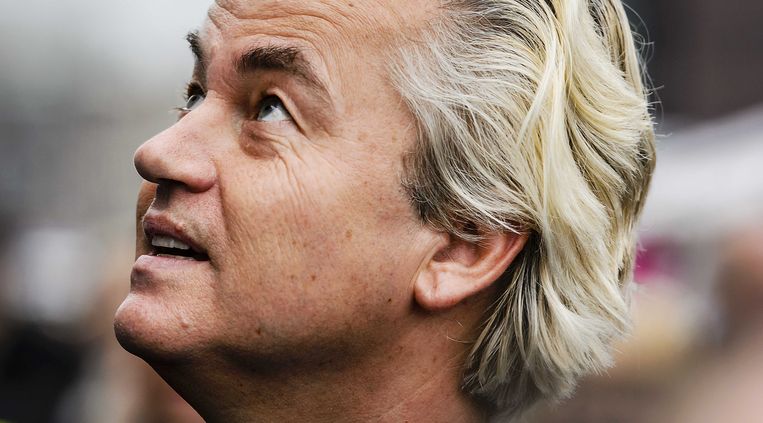 Uncomfortable conversation
A few weeks before the visit of the Dutch politician, boss Arne Notkin contacted the agency. He explained on the phone using the public number that he wanted to discuss the visit of a controversial politician. He wanted to ensure his guest was safe, but Notkin was also thinking of the safety of the more than 3,000 people working for the public broadcaster. A visit from Wilders means safety risks.
Notkin invited the PET to come over for a talk with him and Deputy Director Merethe Eckhardt. He and Eckhardt are told that Wilders' visit will pose a considerable risk for the network. The agency wants to know all the details: who will be present at the showing, how many security guards will come along, how they will enter the building, where they will sit. They agree that during Wilders' visit a couple of PET employees will be present in the building.
Mads Brügger was also paid a visit by PET, one day before Wilders was set to visit. The uncomfortable conversation left the journalist dumbfounded. And the more he thought about it afterwards, the stranger it seemed. What are you going to ask Wilders? What do you think of Islam? Are you aware of the risk an interview with Wilders brings? Bizarre questions by the PET, he thought. In his twelve years of working for the network, he had never experienced something like this; agencies interfering with public broadcasting. And why did they act as if he were about to start a third World War? What business was it of theirs?
Spy
A day later, during Wilders' visit, Brüger has completely forgotten about the unpleasant conversation with the two PET men. Everyone sits down and Martin Bosma opens the laptop on which they placed Fitna. Even now, Wilders will not part with it. To Mads Brüger he repeats how rare it is that they are about to be shown this film. 'After we have watched it, the number of people who has seen Fitna will have doubled', he says enthusiastically. Security guards are posted outside the room.
Martin Bosma starts the controversial film on the laptop. A beamer projects it on a screen attached to the wall. Now they will see what Wilders has kept secret from everyone in the Netherlands. This select Danish group will soon know if in this film the politician does what he in the past few months has suggested and what the Dutch government fears: that a Koran is burnt.
Another reason why the Danish intelligence agency is secretly watching along. One of the journalists doubles as a spy.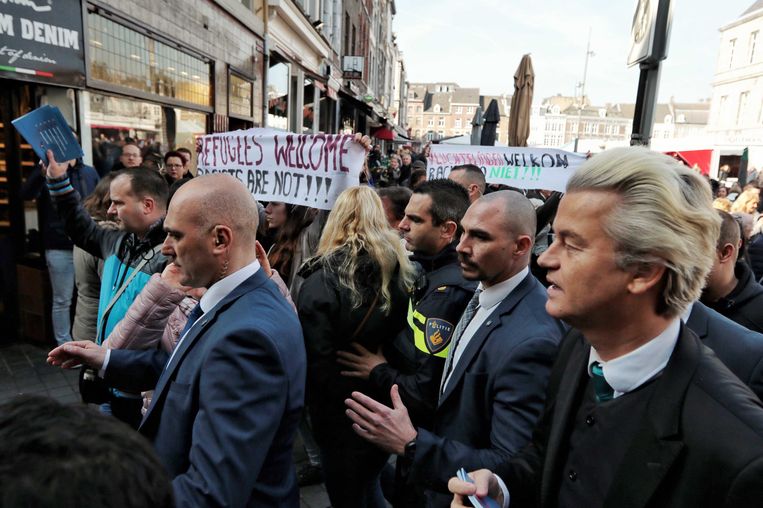 Shortly before Wilders visited Denmark the PET got in touch with their Dutch NCTV colleagues. If they could help with determining Fitna's contents? Does it really show a Koran being burnt? The Dutch organization could hardly undertake such a thing. To investigate a Dutch politician - an active Member of Parliament - would be unthinkable. But an operation by a foreign agency, on foreign soil, that would be a welcome solution. No hassle at home.
The showing lasts for sixteen minutes. Nobody says a word. After a few minutes, Brügger shifts uncomfortably in his chair. All that commotion about this little film, he thinks. It's as if someone edited a bit of YouTube-footage. Sheer amateurism. Is this why he took the trouble to fly in the Dutch politician? A few minutes is also enough to convince Arne Notkin that he'll never air Fitna. It has no news value or artistic merit. Pure propaganda, he concludes.
It remains silent for a long time after the film has finished. The Danes exchange some glances with each other and a few uncomfortable ones with Wilders. Then, Merethe Eckhardt asks Wilders about copyright. A Danish cartoon is shown in Fitna. 'Do you have Kurt Westergaard's permission to use his cartoons in the film?' A hesitant 'no' is Wilders' eventual answer. Notkin inquires about the sources on which the claims made in Fitna are based. Wilders has trouble answering. Falters. The cheery, excited atmosphere of thirty minutes earlier has disappeared. Wilders says his uncomfortable goodbyes and Notkin promises to be in touch soon.
Disgrace
A few days after the preview, DR2 's editor-in-chief Arne Notkin sends another email to Wilders, once again asking about copyright. He never receives a reply. Notkin knows he'll never air the film.
His trip to Denmark has not brought Wilders what he'd hoped it would. He still hasn't found any network that wants to broadcast Fitna.
But for the Danish intelligence agency, the visit was a success. He entered and exited the country without a hitch, but more importantly they have been able to help the Dutch intelligence agency.
Because someone who was present for Fitna's showing in Denmark on March 18 discussed the contents with the Danish intelligence agency. And that's how the PET was able to answer the Dutch intelligence agency's question with finality. Two weeks before Fitna is published on the internet, National Antiterrorism Coordinator Tjibbe Joustra and Security Minister Ernst Hirsch Ballin are told that no Korans are burnt in the film. The information is shared with a select group of people but not with the cabinet council. When the news reaches the Dutch security service AIVD, annoyed phone calls are placed to the Hoftoren in The Hague. Why didn't the NCTV let them handle the situation?
Mads Brügger, the journalist who arranged for Geert Wilders to come to Denmark in 2008, doesn't say anything for a while when speaking on the phone. 'So one of us cooperated with the secret service at the time? Shared information from a closed meeting?' he asks. Yes. Silence again. 'That's insane. What a disgrace.' He thinks over those present at the time and says: 'It must have been Arne Notkin or Merethe Eckhardt.'
They were the editors-in-chief at DR2 in 2008, but have in the meantime started working somewhere else. Eckhardt says by email that she doesn't have much more to say than that she was present and saw Fitna. Discussing the case any further doesn't seem worthwhile to her.
All involved journalists were asked to react. One person didn't respond to several mails. Others denied to have shared the contend of Fitna with the Danish secret service.
Arne Notkin is enthusiastic at first when talking on the phone. He started working at a different network in 2012 but, he says, 'I remember the meeting with Wilders well.' He's busy right now but he'll have time to answer some questions by phone at the end of the week. When the PET is discussed however, Notkin changes his tone. I don't know anything about that, he says curtly.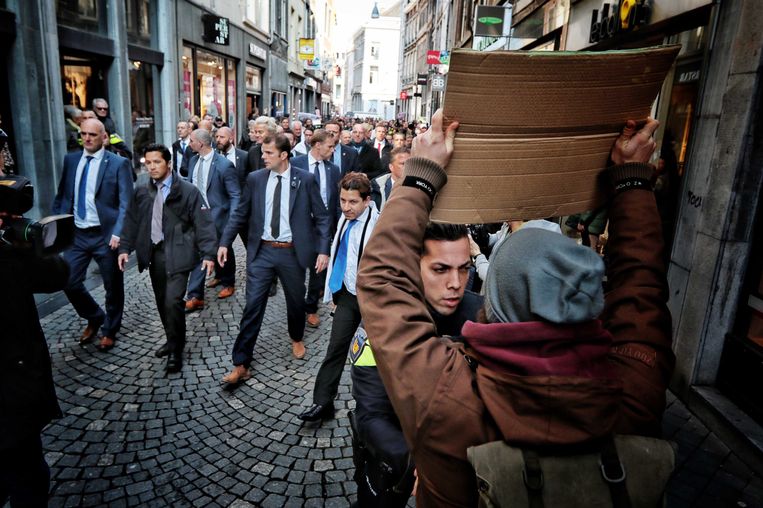 Possible leak
In the next few weeks he cannot be reached by phone, mail or text. After having waited for hours in the lobby of his new employer, a secretary says that he'll be in a meeting for the entire day. Waiting is possible, but pointless. There is some contact by text message, but Notkin says that he really has no time and that he has a dinner appointment. The next day? Busy again, he replies. We send him a text telling him that involved parties indicate him as a possible leak.
A five-minute silence. Then he sends another text. 'This is ridiculous.' We tell him we'd like to get a coffee with him. 'Absolute bullshit', he responds.
Silence again. A few hours later message reaches us that he will after all be available the next day. Merethe Eckhardt gets into contact as well at practically the same time. She will be able to speak on the phone the day after.
Camera
On that day around lunchtime, Eckhardt says that after Wilders' visit she has not been in contact with the PET. 'We only discussed the security risks of the visit with them. That was our responsibility.' It seems impossible to her that someone leaked information from the meeting. 'Nobody from DR would have done that. And I would never do that.'
An hour later, Notkin is sitting uncomfortably in his chair in his office at TV2. He's wearing a checkered blouse, beige pants and sandals. He said in advance that there will be legal action if 'bullshit' is published about him. A lawyer would be present. Now, only his assistant is sitting next to him.
Notkin would like to explain why he did not feel like answering questions about Wilders' visit. 'I don't work there anymore and I don't want to deal with issues from my previous employer.' But is he, as a journalist, interested in someone leaking information to the secret service from a meeting where he was present? 'No, not really. This is where I work now. I think it's impossible that somebody leaked information.' He suggests that the PET secretly placed a camera inside the room.
A Danish intelligence source confirms a week later that information was leaked from the meeting. Someone was debriefed afterwards. That information was given to the Dutch NCTV.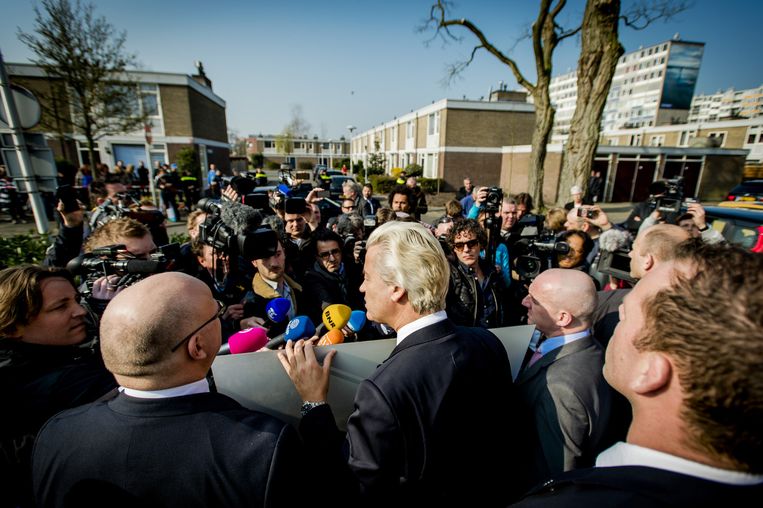 Translated by Alexander Leeuw