'The discussion about feminism has hardly even begun in Africa'
'We Should All Be Feminists' by the Nigerian author Chimamanda Ngozi Adichie had a great impact (also thanks to Beyoncé, but that's still a bit of a 'thing'). How equality can only be achieved if we all make an effort.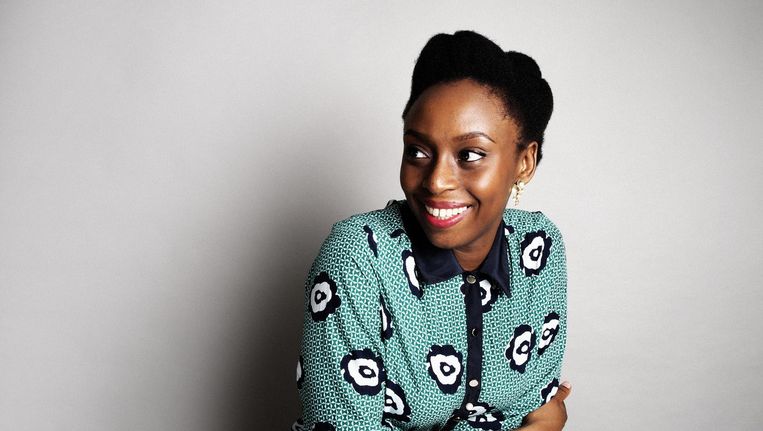 At the end of the Skype conversation with the Nigerian author Chimamanda Ngozi Adichie (39) decided to bite the bullet and mention the B-word: Beyoncé. In 2013, in her song ***Flawless, this world-famous pop star used excerpts from Adichie's essay 'We Should All Be Feminists', in what was perhaps one of the most remarkable and unexpected connections in recent pop culture. But in later interviews with the writer, Beyoncé was hardly mentioned and if she was, it only solicited a benign smile or 'no comment'.
You don't seem to want to talk about Beyoncé.
'She is not my favourite subject. Let me be clear: of course Beyoncé asked my permission to use my texts, and I did give her that permission. I think she's lovely and I am convinced that she has nothing but the best intentions. In addition, Beyoncé is a celebrity of the first order and with this song she has reached many people who would otherwise probably never have heard the word feminism, let alone gone out and buy my essay. But I was shocked about how many requests for an interview I received when that song was released. Literally every major newspaper in the world wanted to speak with me about Beyoncé. I felt such resentment (laughs loudly). I thought: are books really that unimportant to you? Another thing I hated was that I read everywhere: now people finally know her, thanks to Beyoncé, or: she must be very grateful. I found that disappointing. I thought: I am a writer and I have been for some time and I refuse to perform in this charade that is now apparently expected of me: "Thanks to Beyoncé, my life will never be the same again." That's why it didn't speak about it much.'
Beyoncé also claims to be a feminist. What do you think of her style?
'Her style is not my style, but I do find it interesting that she takes a stand in political and social issues, since a few years. She portrays a woman who is in charge of her own destiny, who does her own thing, and she has girl power. I am very taken with that. Still, her type of feminism is not mine, as it is the kind that, at the same time, gives quite a lot of space to the necessity of men. I think men are lovely, but I don't think that women should relate everything they do to men: did he hurt me, do I forgive him, did he put a ring on my finger? We women are so conditioned to relate everything to men. Put a group of women together and the conversation will eventually be about men. Put a group of men together and they will not talk about women at all, they will just talk about their own stuff. We women should spend about 20 per cent of our time on men, because it's fun, but otherwise we should also be talking about our own stuff.'
The essay from which Beyoncé took her samples was originally a speech given by Adichie in the renowned series of TED talks, in 2012. This speech, in which the multi-award-winning author delivered a witty and substantiated argument for the equality of the sexes, became a mega success (over 3 million views by now on YouTube), also thanks to Beyoncé Knowles-Carter's involvement. The essay will now be published in Dutch as well and in October Adichie, who wrote three novels and a collection of stories and lives alternately in Washington and Nigeria, will speak about feminism at the Brainwash Festival in Amsterdam. Her lecture was soon sold out.
CV
Chimamanda Ngozi Adichie was born in Enugu, Nigeria, in 1977. After high school she studied Medicine for a year in Nigeria, but then moved to the United States where she studied Literature and African Studies. In 1997, she made her literary debut with Decisions, a collection of poems. In 2003, she published her first novel, Purple Hibiscus, about religious fanaticism and domestic violence, which won her the Commonwealth Writers' Prize. For her novel Half a Yellow Sun (2006) about the war in Biafra, she won the Orange Prize. This book was made into a film. The collection of stories The Thing around Your Neck (2009) was shortlisted for Best African Book for the Commonwealth Writers' Prize. Her latest book, Americanah (2013) about a Nigerian woman immigrant in the United States was awarded the Chicago Tribune Heartland Prize for Fiction.
Why should we all be feminists?
'I find it hard to grasp why people would not want to be called feminists. To me, feminism is about justice and the inequality of women all over the world is an injustice. We should all make an effort to end this inequality.'
Did your views about feminism change when you moved from Nigeria to the United States to go to college?
'My views haven't changed, but I did learn new things. I realized that women in America were not under such tremendous pressure to become married as women in Nigeria. Then again, the notion that a woman who wants to be taken seriously should not pay too much attention to how she looks, is a typically western one.
'I am very fascinated by how people view the sexuality of women in various parts of the world. The most extreme view is that of Muslim countries, where female sexuality is completely denied. But in the United States it is also very complicated, I found out. Here, a woman can be sexy, but not sexual. In shops I sometimes have a lot of trouble finding a dress that isn't extremely short. Then I think: do I really have to wear a miniskirt every day? And at the same time, women are condemned harshly for the fact that they are sexual beings.
'This strikes me particularly with female celebrities. When actress Jennifer Lawrence's computer was hacked and nude pictures of her appeared online, I was shocked by how judgemental the comments were. But I was perhaps even more shocked by Lawrence's own response: she went to great pains to explain that the pictures were taken for a boyfriend with whom she was really in a long, commited relationship. That's awful! She is a grown woman and she doesn't have to explain to anyone why she has nude pictures of herself. But apparently she felt it was important to say to the world: I am not a slut. Because if you are a sexual woman, you are a slut.'
In 2012, Adichie decided to speak about feminism at a Ted conference about Africa in London, because it is a subject she really cares about. She began her speech without having overly high expectations: 'It is such an emotionally charged word, feminism, and I was speaking before an audience of people from my own continent, and I didn't expect much enthusiasm for my message, as the discussion about feminism has hardly even begun in Africa.'
Then (laughing loudly): 'But eventually my goal is of course to change the whole fucking world. I thought, "if there is even one person here who goes home and start doing things differently, if there is even one woman who hears my speech and decides: all the bullshit I took from a man in my previous relationships I am not going to take any more, because I am just as important as a man" - then I am happy.'
Article continues below video
Can you explain why your speech became so popular?
'No. I'm still flabbergasted, I swear to God. After my speech they gave me a standing ovation. I thought 'really'? Are you sure? Of course I hope that I was able to find words for something that many people were already thinking. And I hope that I have made the word feminism perhaps a little bit less problematic.'
In Sweden, all 16-year-olds were handed a copy of your essay.
'Those poor Swedes! I bet those kids are rolling their eyes: oh God, what is it they want us to read this time? Although I did receive some really nice letters in response. I just hope that my message comes across that feminism is not just an issue for women. Men will have to join, otherwise nothing will change.'
You use a lot of personal and funny anecdotes in your essay. Is humour important in bringing a feminist message across?
'Humour can be helpful to get a foot in the door, so that people will listen to what you have to say, but it is not always necessary. You cannot expect people in subordinate positions to understand and accept jokes about that. So, yeah, I laugh and I try to be funny, but when I'm speaking about inequality I am also dead serious.'
The suggestion that this other big emancipation debate that is now fought so vigorously in the United States, Black Lives Matter, could benefit from a bit more humour, is resolutely dismissed by Adichie. She has not yet quite recovered from the images from Charlotte, where another black man was shot by a police officer in September.
'There is no room for humour in the race issue in America. I sat here crying, watching that video, and I thought: this is so intensely morally wrong. Why don't all the white people in this country take to the streets and say: what is happening here is so terribly wrong. Perhaps the rhetoric of the debate is extreme, but it should be.
'I fear, for myself and for the people I love. I have a cousin in Connecticut. He is 24 and he drives a Mercedes. I keep telling him: if they stop you, please, do everything they say and even if they treat you disrespectfully, stay quiet. Because within the police force there is this institutional fear of being-black and these people are capable of anything. I moved to America because I love the space for living that this country affords me, but the race issue saddens me deeply. It is so problematic, I'm really emotionally exhausted from all that has happened.'
Brainwash
Chimamanda Ngozi Adichie is the principal guest of the philosophical Brainwash Festival, which takes place in Amsterdam on Friday 14 and Saturday 15 October next. The festival will be opened by the Czech economist Tomáš Sedlá¿ek, the German philosopher Markus Gabriel and the American philosopher Susan Neiman, who will address the ancient question of how to make the world a better place. Other guests include Jonathan Safran Foer, Michael Puett, Fidan Ekiz, Naomi van der Linden, Bas Heijne, Saskia Sassen, Arnoud Boot and Hartmut Rosa.
brainwashfestival.nl
Do you ever consider leaving America and going back to Nigeria?
'I feel privileged to be able to go back and forth between those two countries. Nigeria is my home, but so is America. My daughter is 11 months old now and she has flown back and forth six times already. So, no, I don't think about leaving, but I do sometimes wonder if I wish to raise my child in America. I don't want her to grow up with the idea that she is black.
'I know that sounds weird, but that is what will happen when she goes to school in America. She will then come to see her race as her primary identity, and I don't want that. In America you are constantly confronted with the colour of your skin and being black in America is such a negative thing, I want to spare her that. Of course my daughter is still very little, but I do think about these things.'
---
DUTCH FEMINISTS ABOUT THE SPEECH/ESSAY 'WE SHOULD ALL BE FEMINISTS'
'Even in the Netherlands there is still so much to be done'
Elma Drayer (59), columnist
'I find 'We Should All Be Feminists' a wonderful lecture and it even works better as a speech than on paper. Chimamanda Ngozi Adichie is a fantastic woman who makes a solid and also relaxed case for the fact that the subordinate position of women is unjust. She couldn't be more right and as a practising member of the same feminist church I am of course happy with every voice. Like Adichie, I cannot imagine not being a feminist in this world. Even in our own country, while women are officially equal to men, there is still so much to be done - just think of the Banga list of the debating society in Groningen. I read in an interview with Adichie in the Financial Times that she had just become mother of a baby daughter. She had wanted to keep that private, because women always have to answer questions about it, and men hardly ever. I think it's very cool that she doesn't play that game.'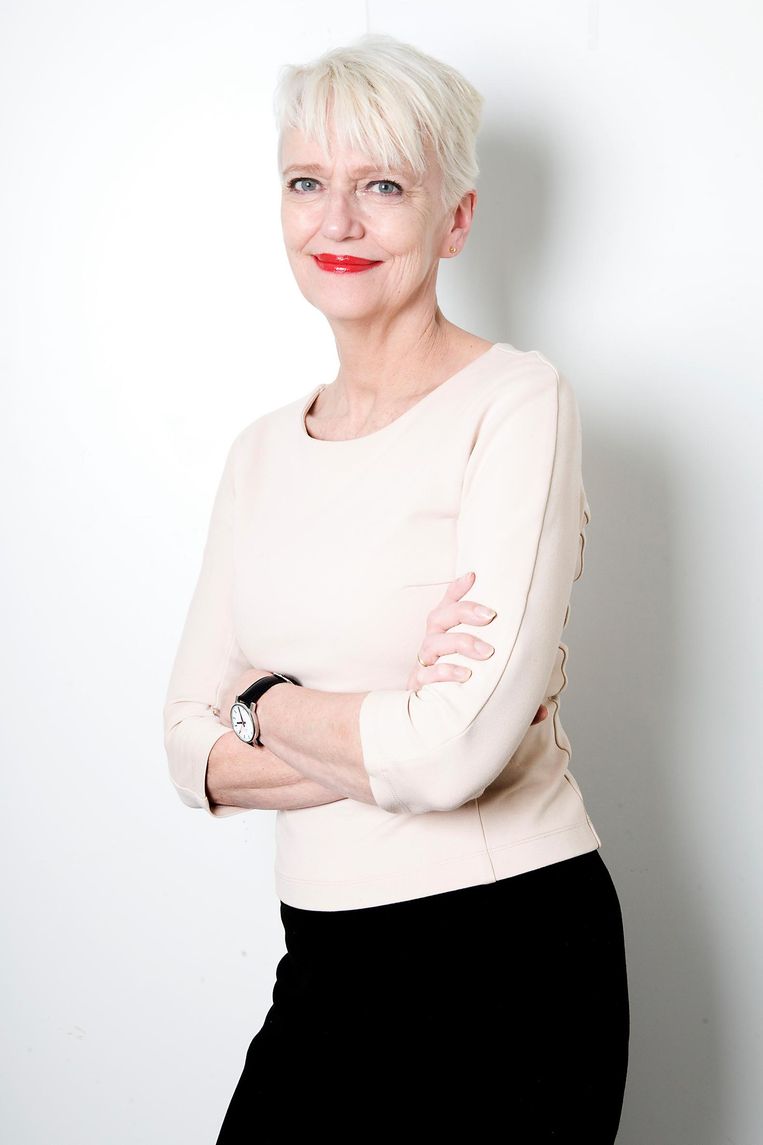 'See the debate about gender and toys'
Asha ten Broeke (33), science reporter and columnist
'Somewhere in her pamphlet Adichie writes: "If we keep seeing the same thing over and over again, it becomes the norm." She was talking about how she was passed over for classroom assistant because her teacher saw this as a boy's task as a matter of course. Adichie reasons: if you only see boys as classroom assistants, you will subconsciously start to think that class room assistants always have to be boys. It is a telling example and, like so many other passages, very recognisable. It made me think of the continuous debate about gender and brochures for toys and such; how, if we always see girls with a doll or a fake little vacuum cleaner, we subconsciously will automatically associate girls with housekeeping and motherhood. The stereotype may fit some girls like a glove, but for many others this is not the case. And that is exactly the problem with gender, is Adichie's analysis, "that it prescribes how we ought to be instead of seeing how we really are". In her view we would be much happier if we were completely free to be our true selves - and that's a conclusion I wholeheartedly support.'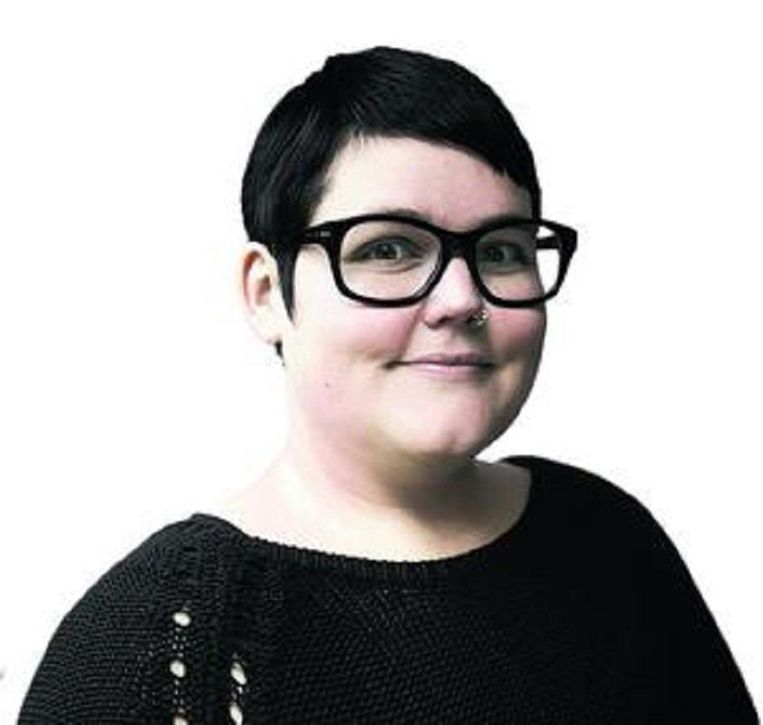 'An extra dimension for black women'
Seada Nourhussen (38), foreign correspondent for newspaper Trouw
'She only mentions it in passing, but in her essay Adichie states that role-reinforcing thinking is also detrimental for men. We expect them to bring home the bacon and not show vulnerability, and that is, although on a completely different level, also oppressive. She writes that men should come aboard, otherwise equality will never happen. I agree with her. In a lovely tweet by a black man I read: "A man doesn't need to be a feminist, he should make the space he has more feminist." 'I can really identify with the examples Adichie provides about being a woman and black. I have also been accosted in hotels, because people assumed that a black woman in the company of a white man - in my case fellow journalists or photographers - has to be a prostitute. Adichie often speaks about repression mechanisms aimed at black women, for example about how our natural hair is often seen as militant or unprofessional. Without over-stressing the point, she also explains something about intersectionality: for black women there are extra dimensions, which are a blind spot for white feminists.'