news
CONFERENCE PEARS IN RUSSIA
Dutch and Belgian fruit growers defy Putins food sanctions
Food sanctions issued by President Putin against the European Union are widely circumvented by Dutch and Belgian fruit companies. Through a smuggling trade, their produce still reaches Russian supermarkets. Since the sanctions were issued, Dutch and Belgians have made an estimated 240 million euros from the smuggling of pears alone.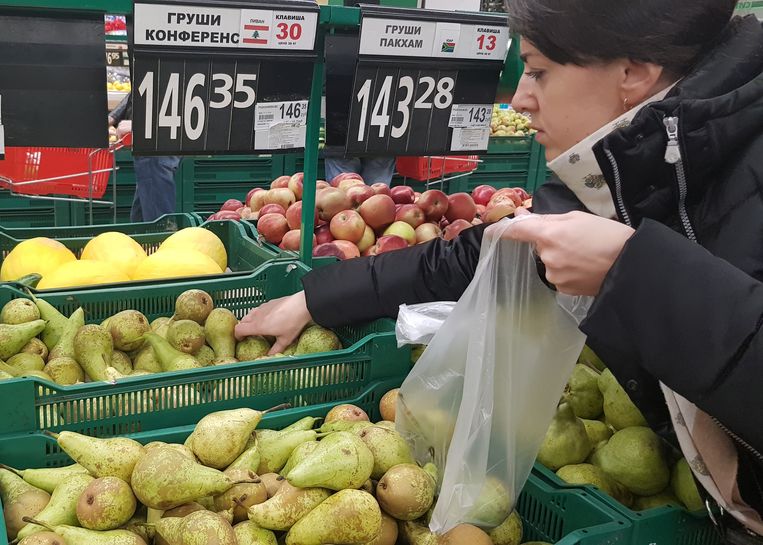 That is what de Volkskrant uncovered during talks with Dutch and Belgian pear farmers, fruit traders and Russian importers. On August 7, 2014, Russia banned the import of meat, fish, dairy, vegetables and fruits from the EU. Putin imposed the ban to retaliate for the punitive measures imposed by Brussels after Russia's annexation of the Ukrainian peninsula Crimea and its military involvement in Eastern Ukraine, where on July 17th of 2014, passenger flight MH17 was taken down.
Dutch and Belgian Conference pears are smuggled into Russia through Lithuania and Belarus by Russian fruit importers. They obfuscate the pears' origins by buying verification certificates from corrupt food authorities, mostly in Africa. This way, it seems as though the pears were grown not in the Netherlands, but in an African country. Because of this smuggling scheme, almost half of the pear trade with Russia has remained unaffected by Putin's ban. Close inspection of the trade statistics shows that each year, about 70 thousand metric tons of Dutch and Belgian pears end up in Russia. Pear salesmen in the Netherlands and Belgium earn an estimated 56 million euros annually from the pear trade. Daily, an average of ten trucks full of 'sanctioned pears' head for Russia.
In a written response, the Ministry of Agriculture claims only to have heard 'rumours' about the smuggling trade. 'Whether or not and on what scale Dutch companies are involved in this, is unknown to the Ministry.'
The Netherlands is of the opinion that Russia is responsible for the enforcement of the import ban. The Ministry calls it 'shameful' that there might be fruit farmers who continue to trade with Russia via smuggling routes, while profiting from government aid measures at the same time.
Until June of this year, the EU and national governments compensated fruit farmers for the loss of the Russian market. Before the embargo, one sixth of the Dutch and over a third of Belgian pears went to Russia. Fruit farmers who promised to take their sudden surplus off the market, qualified for financial compensation. The EU and national governments also organized trade missions to find new outlets for the Conference pear. But the results were marginal, farmers and traders say. According to them, those markets can't compete with Russia, because it's relatively close and the Conference is popular among Russians. In the Middle East, the Dutch/Belgian pear is seen as 'class 2 fruit', because of its rust spots.
Gerard van den Anker, chairman of the Dutch Fruit Farmers Organization (in Dutch: NFO), says he is surprised by the investigation. 'We always suspected that some of our farmers' pears were ending up in Russia, but we didn't know it was happening in this way and on this scale.' Den Anker: 'African countries should not be profiting from our pears.'
In a written response, the Russian food authority, Rosselkhoznadzor, says it is aware of the smuggling by 'unscrupulous participants in foreign economic activities'. The service has made inspections for sanctioned goods more thorough, but since 2015, has only intercepted one truck with Dutch Conference pears. Dutch and Belgian traders suspect that Russia is turning a blind eye to the smuggling, because there are powerful people in Russia who are making a lot of money from this trade. In the past two weeks, the Russian Ministry of Agriculture has not responded to four requests for a response, both written and by phone.
It's an open secret in Russia that the sanctions are widely undermined. Popular products to which Russian agriculture provides no alternative, such as Dutch bell peppers and Spanish peaches, have not disappeared from supermarkets since the ban was imposed. An investigation by Eastern European think tank Globsec recently concluded that up to and including 2016, 2.4 billion euros worth of sanctioned goods were smuggled into Russia through Belarus.
How forbidden pears end up in the supermarkets of Russia
In a sixth-floor apartment on Saint Petersburg's Lenin Avenue, Nastya Loshkina slices a pear into four pieces on her kitchen counter. Many more pears fill a wicker basket on the table. The pears have brown, rusty spots on the bottom: these are real conference pears from the Netherlands or Belgium. But how did they end up there, given that President Putin banned the import of fruits (amongst other products) from the EU in 2014?