Syrian children refugees are put to work en masse in Turkish factories
In Turkey, Syrian children refugees are put to work en masse to help supplement their family's income. In all seven factories in the textile and shoe industry visited by de Volkskrant in the east Turkish city of Gaziantep last week, children were at work.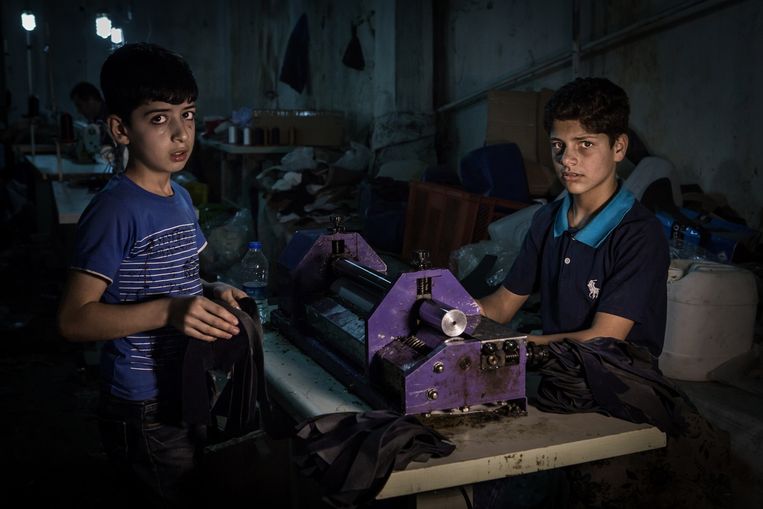 Human Rights Watch reports that child labour is 'rampant' among Syrian refugees, but there are no exact figures. 'The lack of reliable data is part of the problem', says Stephanie Gee. She investigated the situation of children refugees in Turkey for Human Rights Watch. 'But almost all Syrians that I spoke to either had their own children working or knew of underage family members doing the same.'

According to the most recent data of the United Nations refugee organisation UNHCR, 325,000 Syrian children currently attend school in Turkey. That is roughly one third of the Syrian population in Turkey of that age group. The hundreds of thousands of children who do not attend school are often unable to do so because they have to work.
Families in Gaziantep say that they need the extra income from their children, if only because the rents in the city keep rising with the influx of refugees: this city, with a population of 1.5 million, has seen half a million Syrians arrive over the past few years.

One of the families that struggles to make a living, is that of seven-year-old Mohannad Jomjami, who is sorting strips of leather in a shoe factory owned by a Syrian businessman. Mohannad's father then sews them onto the insoles of shoes. Mohannad's older brother produces a photograph of their little sister (9) whose arm got caught in a machine last week. She suffered serious injuries to her wrist.

In the factories the children usually work twelve hours a day, six days a week. Their salary, depending on their age, varies between 50 and 200 euros a month. The legal minimum wage in Turkey is €550 a month for a 45-hour working week.
'I don't want to go to school, I've never been there before'
In a shoe factory in Gaziantep, Turkey, Fatme Hassan (8) works twelve hours a day. With her parents, she fled the Syrian city of Aleppo. In Turkey, there are thousands like Fatme.
According to UNICEF, before the war 99 per cent of Syrian children finished primary education and 80 per cent of them received some form of secondary education. Child labour was not at all common in Syria.

'We very occasionally would have an underage worker in Syria', says Ibrahim Ghello, who ran a shoe factory with a hundred employees in his home town of Aleppo. 'But in those cases it was the father's choice, who was too lazy to go to work himself. Now most families cannot survive without the income of the children.' Ghello fled to Gaziantep because of the war, three years ago. There he opened a new, smaller shoe factory. Of his twenty employees, half are underage.

These young factory workers are mostly boys. In the predominantly conservative Syrian community in Gaziantep it is less of a taboo for an 11-year-old son going to work then for an adult mother. The improvised Syrian primary school in a suburb of Gaziantep reflects this. 'In the higher grades we have almost exclusively girls', says headmaster Sakir, himself a refugee. 'The boys can't come to school, as they have to earn money for their families.'

(Translation: Leo Reijnen)