'I don't want to go to school, I've never been there before'
In a shoe factory in Gaziantep, Turkey, Fatme Hassan (8) works twelve hours a day. With her parents, she fled the Syrian city of Aleppo. In Turkey, there are thousands like Fatme.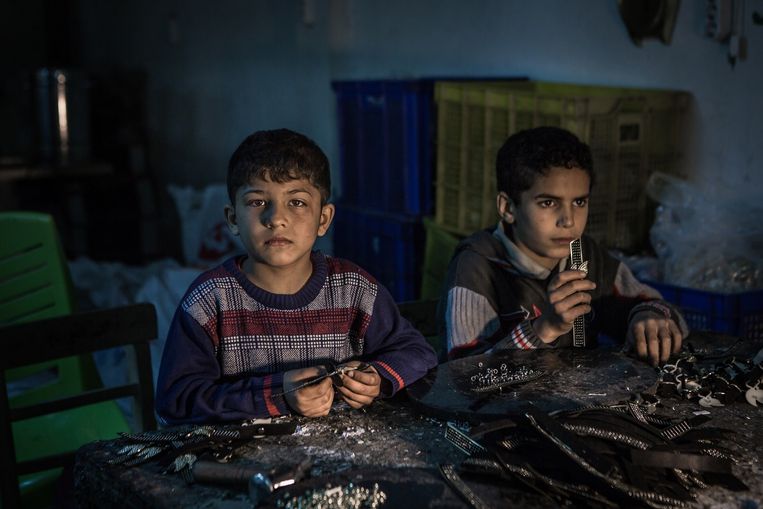 Hussain Bilal (12) isn't tall enough to reach the huge bench drill, so he steps onto a wooden crate before moving a massive block of iron under the machine. Prrrrrtt! The drill ploughs through the metal, scattering splinters. Hussain wipes them off with his blackened hands.

It is blistering hot in this machine shop. Hussain's black hair sticks to his sweaty neck, which is black with metal dust.

Outside, the Turkish flag decorates the workshop's façade, but most of the workers here in what is known as Gaziantep's 'shoe district' are from Syria. An estimated half a million Syrian refugees have fled to the safety of this eastern Turkish town, only an hour's drive from the Syrian border. They now make up some 25 per cent of the population.
In this manufacturing district near the Roman Citadel overlooking Gazianteps old town, the Syrians try to survive by making sandals, sneakers, loafers, and pumps. From the outside nothing much seems to be happening behind these crumbly, windowless façades, but as soon as you go through the iron doors, climb the dark concrete stairs and reach the workshops, you hear the rattling of sewing machines and the buzzing of laser printers. Children no older than seven years are sewing inner soles or sticking labels in ladies' shoes, in a pungent smell of glue.

Hussain is working metal. This small factory produces iron moulds used for casting plastic or rubber soles. 'I had already worked for 18 months in another machine shop', says Hussain. 'That's where I have learned everything. When I started here last month, I was actually quite experienced.'

Which he then demonstrates. He picks up an angle grinder that's almost half his height. He uses the tool on a mould for a high-heeled ladies' shoe, steering the grinder's fast spinning disc skilfully along one side of the block, until it shines. The resulting iron particles form a grey layer on his red shirt.
Syrian children are working en masse in Turkish factories
In Turkey, Syrian children refugees are put to work en masse to help supplement their family's income. In all seven factories in the textile and shoe industry visited by de Volkskrant in the east Turkish city of Gaziantep last week, children were at work.
Then the company owner, a Turk with light-blue eyes, walks in. He doesn't want Hussain to be photographed holding the huge grinder. 'Normally, he never does this work', the owner says. 'This tool is much too dangerous for a child.' People would get the wrong impression, thinking that he would tolerate this in his business. Hussain looks bewildered, but puts the grinder aside, slightly disappointed. A little later he says, in Arabic, in a low voice and out of earshot of his boss: 'This is the first time I hear my master tell a lie. I do this work a lot. I guess he is afraid because you are foreigners.'

This is typical of the attitude of many company owners in the shoe district, where both Turks and Syrians have businesses. They hardly make a secret of the fact that they have children working for them, but they don't want to get into trouble over it either.

The local police is rather more worried about the presence of Dutch journalists in the district than about child labour, as soon becomes apparent. Two policemen call in the secret service to inspect press cards and IDs. The fact that within a radius of a hundred metres dozens of minors are illegally doing hard work in dark buildings is obviously not a priority.
'They turn a blind eye to the Syrian entrepreneurs', says Abu Mohamed (40), 'no full name, please'. The Syrian owns a shoe factory with a hundred employees, dozens of which are under age. 'They know that us Syrians are having a hard time.'

Over the past few years, he has only been visited by inspectors a couple of times. 'But as you can see there are five floors here, so I can quickly send the illegal workers upstairs or out through the back door.'

Is this exploitation? The Syrian entrepreneur begs to differ. He is helping his compatriots to survive. 'Those children need the money. Their families cannot cope when only the father has an income. The lowest rent here is €100 per month and for that you only get a wretched hovel.'

And so putting children's hands to work appears to be accepted as a necessary evil here, not only by the authorities and the employers, but also by the minors themselves and their parents. After all, what are the options if the rent goes up every six months and there are six mouths to feed?
'I don't want to go to school. I've never been to school', says 7-year-old Mohannad Jomjami, dark pouches under his eyes. He is sorting strips of leather in a shoe factory. What he'd like to be when he grows up? He doesn't know. 'Anything', is all he can come up with. A child without dreams. But no, wait. 'I'd like to go to the front', he then says. 'To fight for my country.'

Their abominable living conditions make Syrian children easy targets for recruiters. According to UNICEF, ever younger Syrians are recruited for the armed struggle, lured by gifts and 'wages' of €350 a month.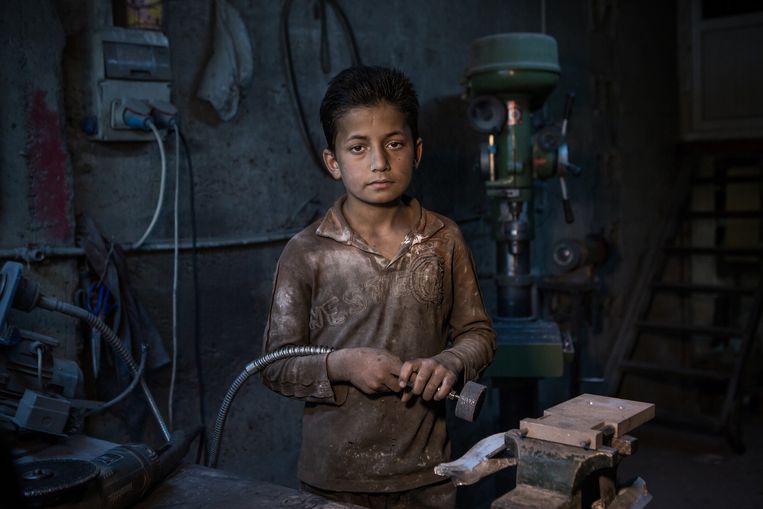 There are no exact data about how many Syrian children are working illegally in Turkey. But around eight o'clock, as darkness falls over Gaziantep, the omnipresence of this problem in the shoe district becomes obvious. Hordes of children come out of dilapidated buildings onto the dark streets, like night animals coming out of their holes. Another 12-hour working day done.

Hussain walks home, which is in a small alleyway in the old part of Gaziantep. His little sister Fatima (4), dressed in pink pants, has come out to meet him. Inside, Hussain's father sits in the carpeted one-room apartment where ten people sleep. There is no running water, but they have electricity.

'If I could work myself, I would of course have sent my son to school', says Mohammed Bilal. 'Nobody wants this for their child.' But, you know... He points at his elbow. 'I was hit during a bombardment in Aleppo. My nerves are severely damaged and sometimes I cannot move my thumb, my index finger and my middle finger. If I lift more than five kilogrammes, my fingers become numb.'
And so it is not 39-year-old Mohammed but 12-year-old Hussain who is now the breadwinner of this family with four children. Hussain makes €50 a week. His father points at his little daughter Nur of 18 months, asleep on a purple rug on the floor. 'Even her napkins and milk come out of Hussain's wages.'

In Gaziantep there is nothing exceptional about a teenager being responsible for providing for an entire family. Ismael Halo (13) and his brother Kamel (15) work at a printer's shop in the shoe district and every week they send most of their meagre salaries to their parents in Syria. Many children have also lost their fathers because of the war. Providing for the family then usually becomes the burden of the sons.

Working girls are much rarer in the factories. The Bilal family chose to send Hussain out to work, not his older sister Israa (14) or his stepmother Maryam (28). 'The biggest taboo for us is for a woman to go out working', says father Mohammed. 'This is how we have been raised in Syria. Suppose some boss in a textile factory would shout at a girl or a married woman or treat them badly. It doesn't bear thinking of. It's different for men, as they are tougher. Women are more sensitive.'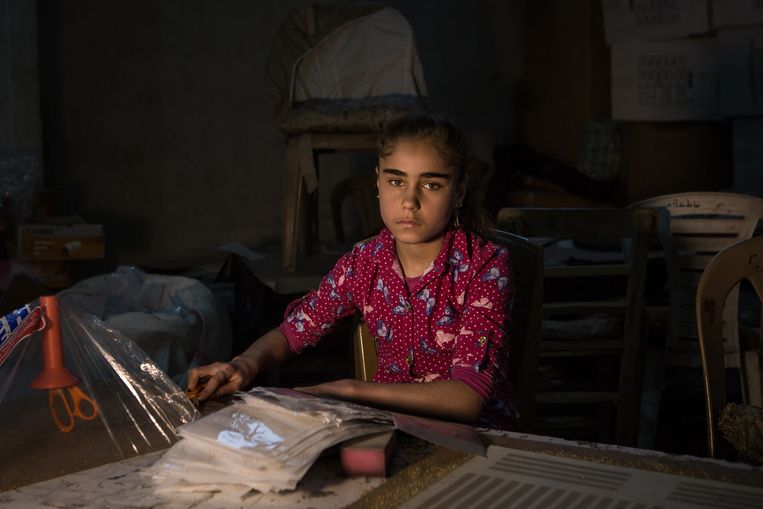 However, under the pressure of poverty even taboos become liquid. In the back of the factory that produces sandals for Iraq, Romania and Ukraine a thick beige curtain screens of the space behind it. Once you step through the slit in the curtain, you are suddenly met with the surprised gaze of ten pairs of eyes of girls and women. Fatme Hassan (8) from Aleppo is banging white buttons in square pieces of fabric, baf, baf, baf. Her sister Imaan (11) is scraping copper-coloured beads together, to be used on sandals. They earn 17 and €50 a week, respectively, they shyly admit. For six 12-hour working days.

Back at the Bilals, Hussain has had a wash after his long day at work. His grimy black arms never get really clean any more. Later, when he is older, he'd really like to set up his own shop in Syria, he says. 'My own business, with the same stuff as where I work now, with metal. But I will not have children working for me. I may have a hard time now, but that doesn't mean that others have to go through the same thing.' He shoots a rubber band at his little sister and then rolls on the carpet laughing. For a moment there he looks like an average 12-year-old.

(Translated by: Leo Reijnen)