Background
Conference pears in Russia
How forbidden pears end up in the supermarkets of Russia
In a sixth-floor apartment on Saint Petersburg's Lenin Avenue, Nastya Loshkina slices a pear into four pieces on her kitchen counter. Many more pears fill a wicker basket on the table. The pears have brown, rusty spots on the bottom: these are real conference pears from the Netherlands or Belgium.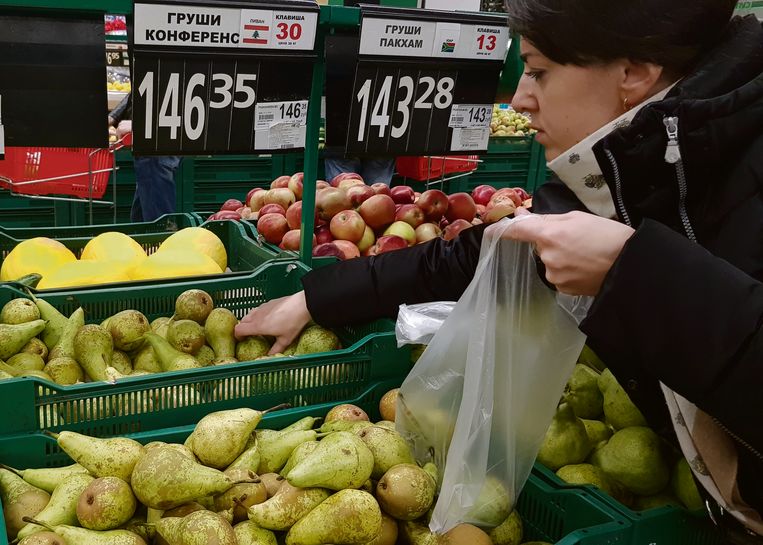 Sometimes, when Loshkina dresses up the table festively, she takes a picture of the pears and posts it on Instagram. It's a guarantee for likes: Russians are very fond of the pear from Western Europe. A ripe Conference is deliciously sweet. Russians eat the pear all day long: with a morning coffee, as a dessert or when having guests at home. In Loshkina's childhood memories, the conference pear is the first piece of fruit she ever ate.
Never did she consider that the pears are forbidden by President Vladimir Putin. She simply buys them at Lenta, the supermarket around the corner. How the pears get there? She has no idea.
Best growing place for the tree
Two thousand kilometres westward, Erik Appelman picks a same sweet pear with rusty spots from a tree. His sandy clay orchards in the Dutch province of North Holland produce about a million kilos of pears a year. Nearly all of them conference pears. Nine out of ten are for export.
Appelman grew apples too, but that business collapsed when Poland joined the European Union. Lower wages, milder environmental laws, higher EU subsidies. 'It was just impossible to compete with that', Appelman says in one of his orchards during a harvesting day in September.
So he switched to a type of fruit that neither the Poles nor other Europeans can compete with. Nowhere does the conference tree grow as well as in the Netherlands and Belgium. The winters of Eastern Europe are too cold and the trees would freeze to death. And south of Belgium it gets too warm.
Russia became Appelman's most important customer, as it already was for all other Dutch and Belgian pear growers. 'They just love conference over there', Appelman says.
The loss of the collapsed apple business had almost been forgotten when geopolitics again penetrated Appelman's orchards in 2014. Putin retaliated for Western sanctions against Russia for its annexation of Ukraine's Crimea: on 7 August 2014, Russia suddenly banned all imports of meat, fish, dairy, vegetables and fruit from the EU, the US and several other Western countries.
The damage was devastating. Belgian pear production depended for a third on exports to Russia, Dutch pear production for a sixth. Putin's ban brought decades-old family businesses to the brink of collapse. Dismissals followed. Some farmers started suffering from mental health problems.
Appelman looked for new markets in the United Kingdom, Germany, the Baltic states, but no market was comparable to the Russian one. Yet, more than four years after Putin imposed his ban, Appelman's pear business is stable again. He sells parts of his harvest to traders, who look for buyers abroad. They found them in the Baltic States. 'I've heard stories that my pears still go to Russia,' Appelman says about the pears that await transport in a cooled storage in province of South Holland. 'But how exactly? I don't know. How should I know what happens in Lithuania?'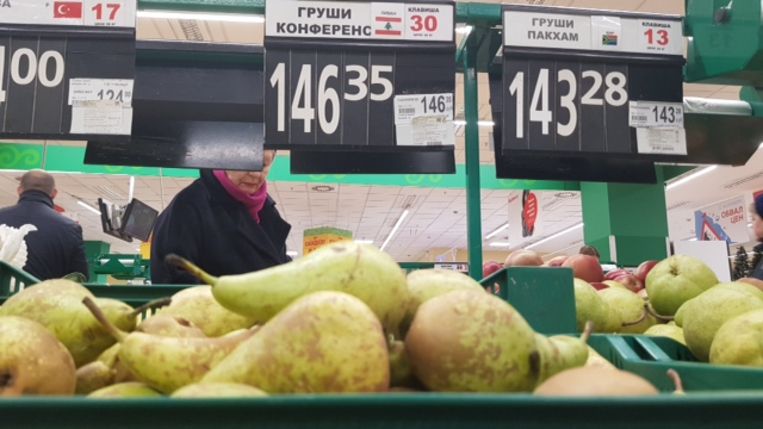 Secret trade
Dutch traders have not spoken out about the problems. They didn't want to be seen as pro-Russian after the downing of passenger jet MH17 above Eastern Ukraine, killing all 298 people on board including 196 Dutch citizens, and for which the Netherlands are holding Russia responsible. Belgian traders have been more vocal. In 2016 they hung banners along motorways in the fruit region of Belgian Limburg: 'Politicians, give us back Russia.'
They demand higher financial compensation from the European Union. The traders hold Brussels accountable for the Russian ban as the EU imposed sanctions for Russia's annexation of Crimea. 'In this war, guns and rifles have been replaced by apples and pears,' says Kris Wouters of fruit company Wouters in Belgium, who raised the issue in Brussels several times. The EU refuses to comply with the financial demands of the Belgians, but helped looking for new markets by organising trade missions to China, Canada, the Middle East.
But those countries are incomparable to Russia, the traders say. China is too far, Canada prefers importing pears from the US and the Middle East considers conference pears 'second grade fruit'. 'In the Middle East, people want a small red pear, because that's how the pear often looks like in fairy tales,' Wouters says. 'No country can replace Russia. A country that is so close, with 145 million people who are ready to spend money on pears and who produce little fruit themselves.'
The opening of a new market takes at least ten years, estimates Tim Pittevils of the Belgian company BP Fruitcraft. 'In Southeast Asia you can sell smooth pears, but no conference. They're not used to such a rough skin.'
About fifteen Dutch and Belgian fruit companies decided to continue exporting to Russia, despite Putin's ban. And despite the dangers. 'It's one big Russian mafia business,' a Dutch exporter tells de Volkskrant.
Nobody likes to explain how the pears end up in the Russian supermarket. Until 2014, the trade took place in broad daylight. Dutch and Belgian would visit the headquarters of Russian supermarkets and closed their deals there.
Now the deals are closed in secret. Dutch traders who are involved do not want to say anything about it. It's not because they do something illegal - they are still allowed to sell, only the Russians are banned to buy - but for fear of reputational damage. 'I don't know what people in the Netherlands will think if they know I'm trading with Russians,' one of them said.
Belgian pear exporters, who initially openly told de Volkskrant about the smuggling route, later also demanded anonymity out of fear for repercussions from Russian trading partners.
Transport companies in East Europe
To get the pears to Russia, Russians work together with transport companies in Eastern Europe. Especially in the Baltic states. These companies hugely benefit from the sanctions, exporters say.
'We see this as a nice market', confirmed Kristian Kaas Mortensen in written comments. Mortensen is the director of strategic partnerships at Girteka, the largest transport company in Lithuania, with over 5 thousand trucks throughout Europe and the former Soviet Union. But he refuses to answer questions from de Volkskrant about the transport of European fruit to Russia.
Before the import ban, the Dutch and Belgians often organised the transport of the pears themselves. 'Now we tell them: if you want pears, come and get them yourself, we will put the crates over here,' said a Belgium trader at his warehouse in the Belgian pear area near the Flemish city of Hasselt. Eastern European truck drivers who speak Russian have no problem finding their way here: the signs on the territory are in Russian.
Statistics show an explosion of the pear trade between the Netherlands, Belgium and Lithuania. In 2013, the year before Putin's ban, Lithuania imported 33 thousand tons of pears from the Netherlands and Belgium, according to data of Comtrade, the trade database of the United Nations. In 2015, the first full year under the ban, it suddenly amounted to 137 thousand tons.
'At the same time you see that pear exports from Lithuania to Belarus increased tenfold over that period', says Jan Kees Boon of Fruit & Vegetable Facts. He analyses trends in the fruit industry. 'From these figures you could draw the logical conclusion that a lot of Dutch pears go to Russia through Lithuania and Belarus.'
At a storage in the province of South Holland, the Eastern European truck gets loaded with pears. When the truck leaves the Netherlands, it carries 1600 crates of 15 kilos. About a hundred thousand Conference pears.
Now the real smuggling begins.
The trade is for a special group
The consequences of Putin's ban are visible at the World Food exhibition in Moscow. The number of Dutch and Belgian stalls has halved compared to previous years: the fruit trade between Europe and Russia has become a market for a small group of people.
'Many companies think: Russia, oh no, we don't do that anymore,' says a Dutchman in the hall full of colourful stalls. 'You have to know the right ways and the right people. Who can you trust? Who should you watch out for?'
The remainers in the business make no secret of their trade. Above the stall of the Belgian fruit exporters Bel'Export and Koen van Herck looms a large poster of three Conference pears. 'From the heart of Europe', the accompanying text reads. A French apple exporter advertises with: 'European rendezvous'. And at the stall of Dutch fruit company Hoofdman-Roodzant, a Dutchman taps Heineken beer for his Russian business partners.
'My turnover is five times smaller than before the ban, but the margins are good', a satisfied trader says.
Throughout the year, the Dutch and Belgians visit the Russians in a warehouse of more than half a kilometre length in Food City: one of the largest distribution centres in Russia, just outside of Moscow. This is the headquarters of small businesses that have grown rapidly since 2014. They do what Russian supermarkets find too risky: buying goods that are banned by Putin from Europeans.
'Often I just stop by to check how things are going', says a Dutchman. 'Cup of tea, a bite. Talking about what goes well, what doesn't.'
Not everyone feels at ease there. Because the trade is corrupt, explains a Belgian trader. 'It's a big farce,' he says. 'But what are we going to do? Looking at how someone else does it?'
The big secret at Moscow's World Food exhibition is the route of the fruit. The Russian company Fruitbook describes itself as 'a fast growing specialist in transport of European fruit', but refuses to explain how to do that, growing quickly in the transport of banned products. 'Wouldn't you want to know that,' a company employee smiles, while she prepares coffee for Europeans at her stall.
Pears from Africa
Study of Belarusian import and export figures shows something remarkable. Before Putin's ban, the pear imports of Belarus came from about ten countries, particularly from the Netherlands and Belgium. After the ban, the import increased by six times. The number of countries of origin rose to over fifty. The pears no longer come from the Netherlands and Belgium, but from all kinds of African countries.
Sierra Leone suddenly delivered 3,000 tons of pears to Belarus in 2016. More than 7,000 tons came from the Central African Republic. And more than 8,000 tons from Liberia. None of these countries are known for their flourishing pear cultivation.
In fact, they do not grow pears at all, according to Comtrade statistics.
The explanation is to be found in Lithuania, where the Eastern European driver arrives with a hundred thousand Dutch pears in his truck. He cannot continue to Russia because he does not have the necessary documents. The crates in his truck carry Dutch labels. The labels are removed in cooling storages near the Lithuanian city of Kaunas, according to traders. But even after that, the truck cannot go on.
For fruit from abroad, Russia demands a document stating that the product is safe to eat: a phytosanitary certificate (Fyto). Fyto's are only issued by food safety authorities of the country where the fruit is grown. And Dutch certificates are not accepted in Russia since the import ban.
'In the beginning, Belgian certificates were simply forged,' a trader says. But that method appeared to be unreliable: some trucks were caught.
Now the Fyto's reach Lithuania through diplomatic post, traders tell de Volkskrant. Benin, Guinea, Burkina Faso - 26 African countries have been providing official Fyto's for pears to Belarus since 2015, according to import statistics from Belarus. Nothing wrong with these conference pears, state the African documents that are added to the crates.
Shortly after the ban, the certificate trade primarily took place in the Balkans. Moldovan journalists in 2015 revealed a corruption scheme in which certificates from Moldova were added to Polish apples. But in recent years, mainly African countries are involved in the smuggling method. Afghanistan, Bangladesh, Yemen and Turkey also show suspicious statistics and are involved according to traders. 'Only these kind of countries are ready to participate in such schemes', a Belgian exporter says.
The interest of the African countries? Money. They collect part of the price for the certificates. The current price for one document averages between 7 thousand and 7,5 thousand euros, multiple sources told de Volkskrant. That's for one truck. A year ago the price was 3,5 thousand euros. 'The price keeps going up', a Dutch trader says.
It looks strange, African certificates for conference pears. 'A conference tree would immediately dry out in Benin,' a Belgian grower said. But according to the traders, that absurdity is no reason for Russian authorities to stop the pears. 'What counts, is what the papers say.'
With relabeled conference pears in the back and an African phytosanitary certificate in the cabin, the truck driver continues his route. Out of Kaunas. On to a country that makes fortunes from Putin's ban: Belarus.
Growing number of smuggling routes
Belarusian journalist Natalia Benichevich observed how Putin's food sanctions changed the road network in her country. 'As early as 2014, the Belarussian government specifically constructed a road for sanctioned products from Western Europe. Just wide enough for a truck.'
Whoever takes that road, arrives in Russia. In a place where the Russian customs service almost never carry out inspections on the smuggling of banned products. 'People in quiet villages suddenly saw dozens of trucks a day passing by,' Benichevich says, who investigated the implications of the fruit ban for a regional newspaper.
Such roads and forest trails are still used by drivers who want to go to Russia, but without the expensive certificates from Africa. 'The forrest way, is how we call this route', a Belgian exporter says.
Immediately after Putin imposed his ban, traders opened smuggling roads, a Dutchman remembers. 'That went very quickly. Within a few days, fruit was flowing into Russia again.'
The methods are numerous. Drivers show papers stating that their cargo is destined for Kazakhstan. On the Russian highway, they get 'a flat tire' and the cargo is left in Russia. Others hide sanctioned products in trucks, for example by placing a few pallets of Brazilian apples in front of them. More popular is to export fruit to countries that are not included in Putin's ban, such as Belarus. The products are 'processed' there and sold to Russia, as fruit grown in Belarus.
Russia's food safety authority, Rosselkhoznadzor, confirmed to the Volkskrant the existence of all the above-mentioned smuggling routes by 'unscrupulous participants of foreign economic activities'.
Most of the routes go through Belarus. The advantage of Belarus is its customs union with Russia - there is no border control. Anyone who is in Belarus can practically freely travel to Moscow.
But after the Russian food safety authority learned about large-scale smuggle through Belarus, it took measures. Transits from Belarus to Central Asia are no longer allowed. Authenticity checks of Fyto's have been tightened. And at the border with Belarus, Rosselkhoznadzor has installed four checkpoints to inspect trucks on illegal products.
It has had an effect. Until October 2018, Rosselkhoznadzor intercepted 25,000 tons of fruit and vegetables, the authority reported to de Volkskrant. All products were destroyed. Images of trucks that flatten fruit regularly appear in the Russian television news.
However, the destroyed quantity is miniscule compared to the number of products that make it to the Russian supermarket. It concerns less than one percent, suggests research of Globsec, an Eastern European think tank. The author, Andrei Yeliseyeu, concludes on the basis of trade figures that until the end of 2016, around 2.4 billion euros of fruit and vegetables were smuggled to Russia. All of them through Belarus. One of the most smuggled products: pears.
'The number of re-exported Dutch and Belgian pears amounts to around 70 thousand tons per year,' the researcher tells de Volkskrant. That means that almost half of the pear trade with Russia remained intact despite Putin's ban.
Lithuanian trade statistics confirm those numbers: since the ban, Lithuania has been importing at least 78 thousand tons of pears from the Netherlands and Belgium a year. Almost all of these pears are resold to Belarus, the Lithuanian Ministry of Agriculture confirmed to de Volkskrant, and Belarusians resell the pears to Russia.
An estimated 300,000 tons of pears from the Netherlands and Belgium have so far reached the Russian supermarkets. Estimated value: 240 million euros. The number of conference pears that were stopped? One truckload, according to Rosselkhoznadzor. In more than four years.
The pears via Lithuania are difficult to stop for the Russian food authority, as the driver carries original Fyto's. The suspicious origin of the documents are not enough for Rosselkhoznadzor to stop the truck.
'We see no reason to distrust our trading partners from African countries', the agency wrote to de Volkskrant. 'All deliveries from this continent have been confirmed by the national plant protection services.'
So the route via Lithuania is safe, traders say. 'We call this the official route', says a Belgian. 'The way that the Russian authorities accept. They let everything through, as long as you do it in their way.'
All Dutch and Belgian traders who spoke to de Volkskrant suspect that the Russian government tolerates the smuggling route via Lithuania, because there are powerful people in Russia who earn a lot from this trade. 'Probably not Putin himself,' says a Dutchman. 'But someone not far from him.'
Trust nobody
Rustam, an Azerbaijani in his twenties wearing a hoodie, is the boss in one of the warehouses in Moscow's Food City. His office consists of a kiosk between the fruit pallets. The kiosk is empty apart from two old office chairs and a stool. No computer, no papers. Rustam runs this business on his new Samsung S9. Supermarkets and other fruit vendors call him from Moscow, Volgograd, Rostov, Voronezh, Kazan. 'Almost all the fruit for Russia goes through these warehouses', Rustam says.
He came from Azerbaijan to Moscow to take advantage of the opportunities in the Russian fruit market since the sanctions. Business is good. This year he rented a second warehouse.
Through Whatsapp, Rustam sends his Russian customers photos of fruit that he has on offer. He receives the photos from traders abroad. That's how he gets an impression of the quality. He scrolls through his photos: small pears from Italy, mandarins from Spain, all on their way to him. 'They're beautiful, aren't they?'
Dutch and Belgians traders earn a lot from the trade, he tells. They have good contacts in the European fruit industry and have products that Russians want: conference pears, bell peppers. 'Within a year, a Dutchman can become a big guy here.'
But danger lurks around every corner. 'You cannot trust anyone here, not even me,' whispered Iniat, a Dagistani citizen who tries to sell conference pears in one of the warehouses at Food City. Before you know it, you've sent a load of pears for which you will never see any money in return. 'That's the market at the moment.'
The grim atmosphere is also present among the truck drivers. Supervisors keep strangers at a distance. At moments when it is possible to speak to drivers, they refuse to tell about the route they took with their cargo.
For the Dutch and Belgians, the biggest danger concerns the way they receive money for their pears. 'Payments from Russia come from everywhere, except from Russia,' one of them says.
It's because the Russians want to hide their money transfers to the Dutch and Belgians for the Russian authorities. 'So what they do is this', a Dutchman explains. 'They give cash to someone who has money on an account abroad. That person takes a commission of about 8 or 10 percent and pays me from that foreign account.'
As a result, payments come from firms in Cyprus and Azerbaijan. The senders of the money regularly mask the fruit payments by writing in the payment description that the sum is meant for other goods. Electronics, for example.
'We have already been checked several times for payments by offshore banks,' a Belgian says. 'The Belgian authorities suspect us of money laundering.'
'It is becoming increasingly difficult,' a Dutchman says. His accountant fears that the bank will no longer approve the payments. That probability has grown since September, some believe, when Dutch ING bank was fined for 775 million euros for failing to investigate dubious money flows on the bank's accounts.
The schemes are all meant to protect the massive buyers of sanctioned fruit: the Russian supermarkets.
It's illegal, but nobody checks it
Peaceful background music is played at the fruit department of the Moscow supermarket Azbuka Vkusa. The sanctions war between Putin and the European Union doesn't seem to have made any victims here: the shelves are full of shiny pieces of fruit and vegetables.
But who looks closely, will notice that a revolution has taken place here. The tomatoes come from Azerbaijan, Uzbekistan and Russia. The cucumbers are almost all Russian. Before the important ban, these vegetables mainly came from Europe.
There is also something strange about the peppers in the cooling. According to the label, they've been grown in Libya. Small cabbages are said to have been imported from Tanzania.
In a basket with conference pears a sign says: Turkey. Other supermarkets mention Benin, Burkina Faso and Ivory Coast as countries of origin. Most supermarkets do not show a sign at all. Illegal, but who checks it anyways?
Food authority Rosselkhoznadzor states that it does not find sanctioned products during most checks in supermarkets. The agency does not mention how often it carries out checks.
Supermarkets know that the information on the labels is false. But they hide behind the Food City middlemen. The supermarkets just buy African fruit from a Russian. Completely legal, they say.
Some supermarkets doubted whether they would continue buying European fruit after Putin's ban. 'But our competitor continued with conference', says an importer. 'We did not want to be left behind.'
Last summer, President Putin extended the import ban until the end of 2019. Taking into account the ongoing tensions between the EU and Russia, traders expect the food embargo to stay for a while longer.
If it ends one day, Russia will introduce high import tariffs to protect its growing fruit and vegetable industry, traders expect. Tariffs as high as the current price of the Fyto's. 'Better, because then you do not have the hassle with those African countries in between,' one Belgian trader says.
Sellers of illegal certificates for pears are expected to earn an estimated 25 million euros this year. 'It's all at the expense of Russian consumers and of Dutch and Belgian producers,' says Tony Derwael of Belgian fruit exporter Bel'Export.
A Dutchman hopes that the embargo will remain. 'Let trade with Russia get complicated. I have only ten competitors left.'
What they all agree on is this: the smuggling route via Lithuania must remain open. 'What is happening in Lithuania must be allowed,' says a Belgian in his office between the Belgian conference fields. 'Where else can we go with all our pears?'
For this story, de Volkskrant talked to pear growers, exporters,transporters and importers in the Netherlands, Belgium, Lithuania, Belarus and in Moscow and St. Petersburg. Most of them did not want their names in the newspaper, because they are afraid that this will damage their trade. Their names are known to the editors. The name Rustam is fictitious for safety reasons. The paper also made use of public import and export statistics and talked to researchers of the fruit trade between the EU and Russia.