photography
Martin Parr, Icon of British Photography, in Disgrace After Being Accused of Racism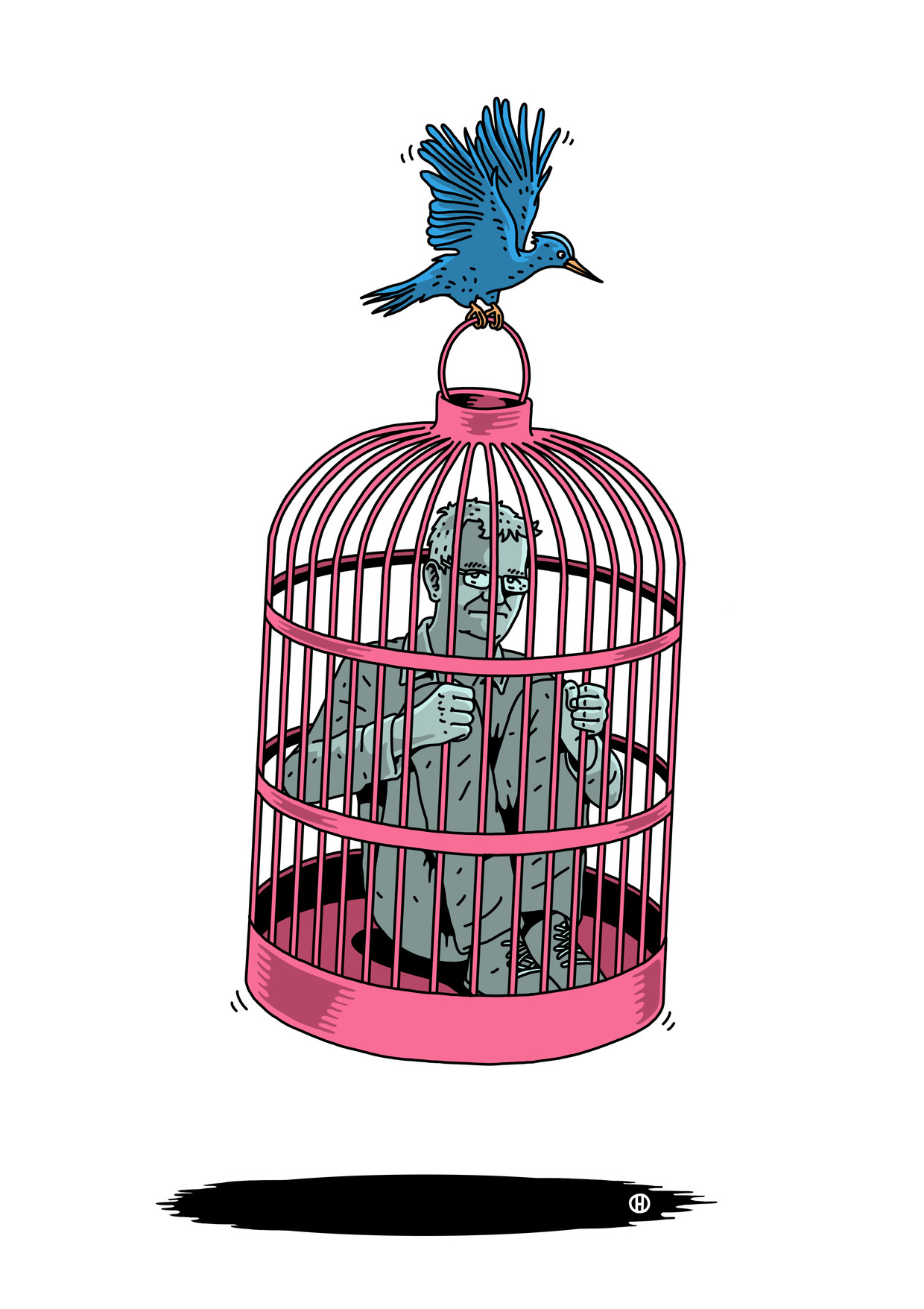 By associating himself with an allegedly racist book, the career of British photographer, photobook expert and photography curator Martin Parr seems ruined. How a few tweets caused a storm that simply won't stop even after the photographer's apologies.
Lees dit verhaal hier in het Nederlands.
On 7 June 2020, footage from Bristol—a city in the south-west of England—is world news. During a protest against racism in the centre of Bristol—following the death by suffocation as a result of police violence of George Floyd, a black man, in the USA, two weeks earlier—the statue of entrepreneur and philanthropist Edward Colston is pulled down, dragged to the harbour, and thrown into the water at Pero's Bridge.
The action is full of symbolism: Edward Colston (1636-1721) was a slave trader, while Pero (ca. 1753-1798) was a slave who was taken to Bristol.
Not long after these events, another man falls into disgrace. Not because of another action by a crowd chanting 'Black Lives Matter' but because of a black teenager. It's a story that starts a year before all this.
*****
On 27 May 2019, three messages are posted on a new Twitter account, Less Than Human Debate. The first message, posted at 2.40 p.m., announces that on that very same afternoon pamphlets denouncing racism in British photography will be handed out at the National Portrait Gallery, a prominent museum in the heart of London.
A second tweet, at 7.09 p.m., includes an image of that protest. Two young black women present a pamphlet to a white couple. 'We had over 40 conversations about how organisations ignore or deny the presence of #racist visual practices in plain view.'
A third tweet, posted at 9.26 p.m., reveals the aim of the action. 'Utterly horrified and appalled to see this double page layout in a book about London, edited by #MartinParr. It's time to confront such vile #racism within #BritishPhotography.'
This tweet includes an image of a spread, two pages side-by-side in a book. The left page is a photograph of a black woman, while the right page shows a gorilla in a cage. There is no mention of the name of the photographer; only of that of the book's editor, Parr. The National Portrait Gallery is hosting an exhibition of his work at the time.
*****
Without exaggerating, Martin Parr (68) can be regarded as the Pope of photography. He is internationally known for his ironic photos of people's leisure activities. It's hard not to laugh when looking at his beach photos. The bizarre portraits of himself made by photo studios all over the world in the nineties, are no less hilarious. It turned out to be a prophetic series— shortly afterwards the selfie mania broke loose. Parr has been a member of the famous photographers' collective Magnum for almost thirty years.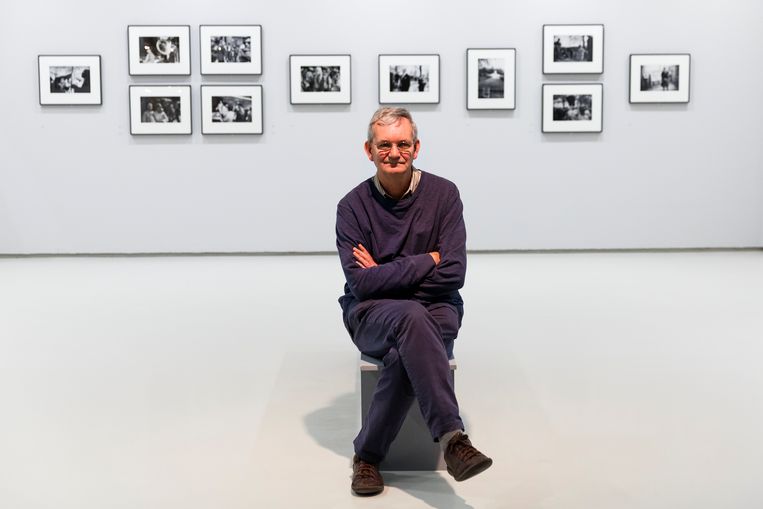 In addition, he is regarded as an expert in photobooks— he has collected 12,000 of them. Together with co-author Gerry Badger he published a three-part series about the most special ones. The Photobook: A History was such a pioneering work that it is considered a Bible by collectors. When Parr praises a photobook, its sales figures immediately rise sharply.
In 2017, having just sold his enormous collection of photobooks to a major cultural institute in London, he opened the 'Martin Parr Foundation' in his hometown Bristol: an admission-free exhibition space and library, financed by himself. The first exhibition featured his own photographs, but since then he has shown only work by British colleagues. Photography was underappreciated in his own country, he stated in an interview with de Volkskrant.
Just across from the Martin Parr Foundation, the Royal Photographic Society settled in 2019. This institute has been championing photography for 167 years now. Recently, it was announced that there will be a real photography festival in Bristol next year, with Parr as the artistic director. Thanks to his pioneering work, the city has become a centre of photography.
*****
Shortly after midnight, on what is now 28 May 2019, in a fourth tweet, Less Than Human Debate explains that the spread with the black woman and the gorilla features in London, a book with photos by Gian Butturini. Again, it is mentioned that Parr is the editor.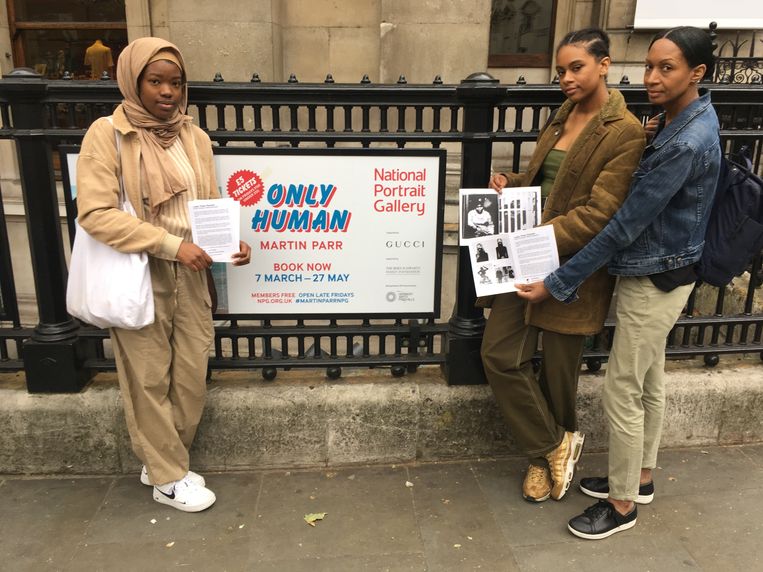 Later that same day a film clip is posted, with the message that the protesters have 'recently' visited Parr's exhibition in the National Portrait Gallery. In the 45-second video one of the two young black women strolls through the exhibition while she is filmed from behind. She is holding a photobook. The camera zooms in on its title: London by Gian Butturini, and then on the text in much smaller print next to it: 'Edited by Martin Parr'.
While still being filmed from behind, she then holds up the spread of the black woman and the gorilla next to a photo in the exhibition of young black women wearing bikinis and feathers (Parr took that photo at a carnival procession in London in 2017). 'Say no to racism in British photography', a text at the end of the clip states.
A couple of things are notable. The woman holding the photobook is not wearing the same clothes as during the protest of the day before. The handing out of pamphlets took place just before the end of the exhibition; 27 May was the last day that Parr's photographs were on display at the National Portrait Gallery. Therefore, the video must have been recorded on the 26th, or even before. The Twitter timeline suggests that the protest came first and the visit to the exhibition later, but it's the other way around.
This can also be gathered from the very first tweet of Less Than Human Debate. It came with a slightly blurred photograph with the word 'Britishness'. It was an announcement, as has become clear by now. In the clip the blurred photograph is shown for a couple of seconds and immediately after that we hear Parr pronounce the word.
Parr's voice can be heard throughout the entire 45 seconds. It was probably recorded from an audiotape or a video that was played at a show at the National Portrait Gallery–we can hear the buzzing of visitors. Parr speaks about his profession, but the sentences that are edited with the images are not chosen randomly; among other things we hear him say that in his work he wants to 'celebrate' the fact that Great Britain is a multicultural country. Everything seems to indicate a well-prepared action.
*****
Parr is not just a photographer and photobook expert. He has also programmed exhibitions. In 2016, he was the curator of an exhibition in London of photographs made in Great Britain by foreign photographers. Parr had chosen work from giants such as Henri Cartier-Bresson and Robert Frank, but there were also prints from an Italian who was completely unknown in England: Gian Butturini, who had died ten years earlier. His first photobook was also displayed, to the immense pride of his family in Italy.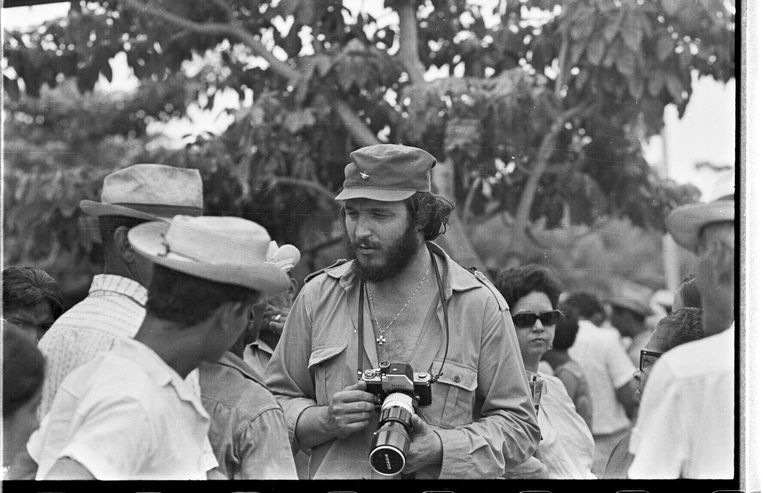 Butturini, who was born in 1935, was successful in graphic design and advertising and came to London on a work-related visit for a month in 1969. He took up photography there and realised that he had found his calling. That same year he published his first photo book in Italy: London by Gian Butturini.
His debut became a sought-after collector's item. When Parr discovered the book, he became so enthusiastic that he visited Butturini's family, in 2006, shortly after Gian's death, and purchased original prints from the family. He later also managed to arrange a second life for the antiquarian book: Damiani, an Italian publisher, published a reprint in 2017.
In this new edition, Parr explains in an added foreword why this is such a 'great' and 'politically charged' book. Butturini not only photographed the glamour of London or the by then famous hippies but also pointed his camera at homeless people and drug addicts. He then printed his black-and-white photographs very grainy, cut them up, combined them, and mixed them with images of graphic design from the city. Together, this made for a very original narrative.
In 2018, Parr also presented this new edition at Photo London, a big photography fair. The Butturini family thought the world of this Brit. However, their respect melted away when this summer they received a phone call from Damiani publishers, who told them that the sale of the reprint was cancelled because the book had caused controversy in England.
*****
Shortly after the video about Parr's exhibition is posted on Twitter it becomes clear who orchestrated the protest against him. Less Than Human Debate retweets a post by Paul Halliday: 'Imagine this. You buy a #photobook for your daughter's 18th birthday. You take it home. You look at it, and your jaw hits the floor. My daughter is a young Black woman. I bought her another book.'
Paul Halliday is a photographer, filmmaker, and teaches Photography and Urban Cultures at Goldsmiths, a London University. His daughter, Mercedes Baptiste Halliday, is also a photographer. The now 20-year-old student of Archaeology and Anthropology has been immersed in photography and theories about it by her father from a very young age, as she herself states. She is the one who accuses Parr of racism.
From the moment her Twitter account goes live, she has the full support of her father, as is evident from his tweets. The same goes for another early pillar of support: 'Duckrabbitblog', the Twitter alias of Benjamin Chesterton, a former producer of documentaries for the BBC who is now the director of a company that makes videos for charity organisations.
These three people are constantly responding to each other's tweets, which gives the impression that the action is generating quite some attention. But things don't really take off. Not even after The Phoblographer, a website about photography, devotes an article to the protest one week later. Parr was not asked to respond. Shortly after the publication, the editor-in-chief tweets this: 'We're still waiting for a response from Martin Parr.'
*****
On 5 December 2019, more than six months after the start of the protest, Martin Parr addresses the accusation for the first time. In response to a tweet from a well-known photo expert he states that he was not the editor of London, even though it says so on the book's cover; the new addition is a facsimile, a reprint of the original, with a new foreword by him.
Yet, he searches his own conscience: 'Of course, I should have picked up on the spread, but regretfully did not.' He 'fully' acknowledges that the spread is racist and expresses his regrets if he caused offense to anyone.
This is not the first time that he denies being the editor. Since May 2018—a year before the start of the action against him—there is a video on YouTube of his presentation of the reprint on the occasion of Photo London. In it, Parr says that the words 'Edited by Martin Parr' were added to the cover because of the new foreword he had written. Otherwise, the reprint is exactly the same as the original. 'It is really cheating actually', he remarks with a laugh. 'I could sue myself for claiming that I edited it.' He doesn't say whose idea it was to include the text on the cover, but one can well imagine that commercial considerations had something to do with it.
Mercedes Baptiste Halliday could easily have found this video. Also, in his foreword to London Parr mentions that it's a reprint. Did she do any research before she began her action? When we request an interview, her initial response is sympathetic, but later she doesn't go through with it. Some time later, her father, Paul Halliday, is prepared to answer questions – Mercedes is very caught up in her studies, he tells us over the phone from London.
He had bought the photobook about the British capital for his daughter's birthday, but decided not to give it to her after finding the spread with the black woman and the gorilla. 'I know from an early age what it means when people make monkey noises at you.' When, much later, he and his daughter discussed racism in British photography, he had shown her the book for the first time.
He is also the one who filmed Mercedes while she was at Parr's exhibition with Butturini's photobook. Whether this was before the protest, he claims not to remember. According to him, the video was put together in a couple of days; these kids today are so clever with social media, aren't they? He hadn't expected his daughter's protest to become such a big issue. 'This was before the Black Lives Matter movement really took off. George Floyd hadn't been murdered yet.'
That Parr would not be the editor of the book is rubbish, he says. 'If you put it out and your name is on it, you own it. I do not accept that it is a facsimile. I am trained in archaeology and anthropology. Facsimile means it is an exact copy. This is not an exact copy: there was an intervention by Parr, who wrote a foreword that says nothing about pairing a photo of a black woman with that of a gorilla.'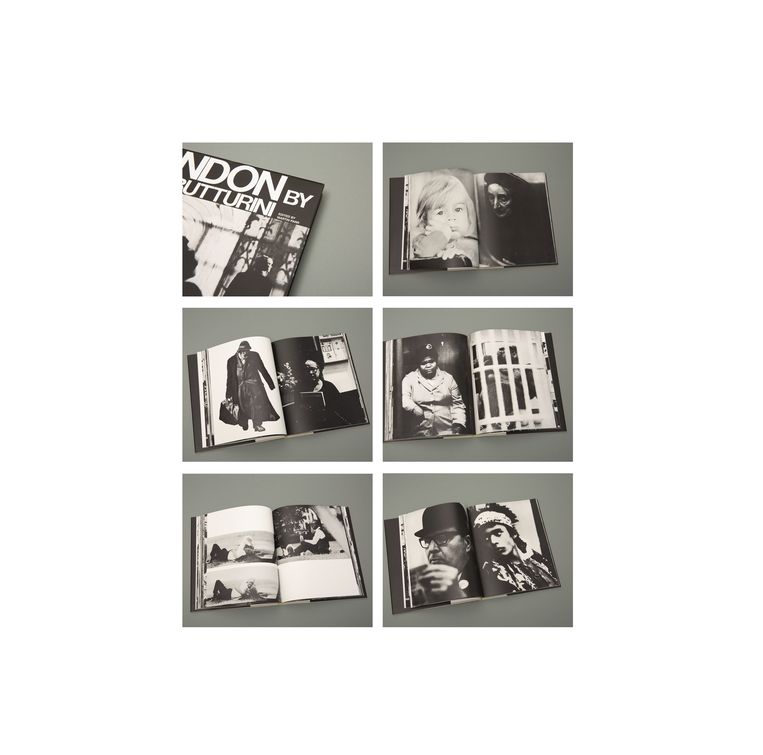 It was Parr who took the initiative for this new edition, says Halliday, so he could have decided to leave out the spread or place the photographs in a different order. He could also have objected to the use of his name on the cover. Parr did not do any of that, but did let himself be photographed in a Berlin bookshop with the book on the top of his head, for a laugh. Halliday: 'He accepts that it would be understood that he was involved in the editing.'
*****
Probably, Mercedes Baptiste Halliday didn't see Parr's confession of December 2019 until much later. She does not tweet about it. She does react, though, when on 1 June 2020 the photographers' collective Magnum, of which Parr is a member, declares its solidarity with people of colour who continue to be the victim of racism and violence. The death of George Floyd one week earlier has led to a wave of protests. Magnum is reproached for having hardly any photographers of colour in its ranks. 'This is pathetic', is Baptiste Halliday's reaction. She again refers to the accusation against Parr. 'Why doesn't Magnum condemn their photographers publishing racist tropes of black people?'
On 11 June, four days after the statue of slave trader Colston ends up in Bristol's harbour, the Martin Parr Foundation also gives out a statement. It says that the art world has a problem with diversity and inclusion. The foundation should do more about that, the short statement says. 'We are listening and learning.'
On 2 July the British newspaper The Guardian obliquely mentions the action against Parr in an article. In it, Parr says that he regrets his involvement with the reprint of London. His earlier tweet about this is quoted, as is the statement his foundation just published. Parr tells the newspaper that he and his staff had been so preoccupied with the issue of equality between men and women that it led them to 'overlook' the issue of racial equality. He announces the introduction of bursaries for photographers of colour.
A week later, on Twitter 'Duckrabbitblog', aka Benjamin Chesterton, Baptiste Halliday's comrade in arms, calls into question another photobook for which Parr wrote an enthusiastic foreword. This one is by a Spanish photographer. He and his assistants disguised themselves as surveyors in order to secretly take pictures of prostitutes waiting for clients by the side of the road. Baptiste Halliday's response: 'So sickening to see this kind of predatory and explorative behaviour glorified.'
On 15 July it is announced that students of photography from Bristol have cancelled the exhibition of their work at the Martin Parr Foundation—as a protest. This show, an annual event, was to open the day after. Because of the COVID-19 crisis the exhibition space had been closed for months. Now its reopening is also cancelled.
Shortly after that, Baptiste Halliday publishes–undated–correspondence between her and Parr on Twitter. He writes that he and the National Portrait Gallery were not aware of the protest in May 2019. According to him, this had come to light only much later, after which he immediately searched his own conscience. He now wants to also 'personally apologise' to her and explains once more that he really is not the editor of London.
In her reply Baptiste Halliday says that it's 'embarrassing' that he, an experienced photographer, has overlooked the spread with the black woman and the gorilla. Comparing blacks to monkeys is a well-known racist trope, she writes. As he has signed the book and sees it as his work, it is fair to assume that he is the editor of it, she says. She wonders why he has waited a year to contact her.
She also cites a tweet of her fellow combatant Benjamin Chesterton. He had observed, in early July, that London contained a poem by Allen Ginsberg (the American poet, hippie leader, and champion of gay rights who died in 1997). 'Duckrabbitblog' had read on Wikipedia that Ginsberg had been a member of an organisation that preaches free sexual relations between grown-ups and children. Butturini's photobook, praised by Parr, not only provides a platform for racism, Baptiste Halliday contends, 'it also promotes a known paedophile'.
She demands that Parr apologises in public, that the book will no longer be distributed, and that he donates his royalties to a charity that benefits black people.
Parr once again expresses his regret for not having noticed the spread. 'This is no excuse but I'm nearly 70 years old and a white man and regretfully I'm coming to realise that sometimes I have failed to see things from another perspective.' He will meet her demands. He also invites her to meet with him and his staff and advise them about how to make his foundation more diverse. Baptiste Halliday declines the offer.
Shortly afterwards, Parr publicly repents. On 21 July, he also resigns his position as artistic director of the newly founded Bristol Photo Festival. His staying on would mean an 'unnecessary distraction' from the fine work the organisation intends to exhibit in 2021.
Baptiste Halliday then, in an article in The Art Newspaper, draws a comparison with the statue of an American Vice President that was removed by the city of Charleston one month earlier because he defended slavery: 'Parr is the Charleston statue of photography. He represents a generation of white, middle-aged men who do what they want without any consequences. He is the institution, and we are only beginning to dismantle it.'
Parr does stay on at his own foundation. The question is how the Martin Parr Foundation is to proceed. Will anyone still be willing to exhibit there? His own work—there was almost always a Parr exhibition somewhere in the world at any given time—will probably also remain in storage for the foreseeable future. His name has been tainted. The PR firm he hired informs us that he is not available for interviews.
*****
Gian Butturini's family is very eager to comment. From Italy, Tiziano (the son from the first marriage of the photographer) and Marta (the daughter from a second marriage) confirm that their father put together London himself in 1969. According to them the reprint is exactly like the original, apart from the added foreword by Parr.
They also claim to know why Butturini placed the photos of the black woman and the gorilla side-by-side. 'It was a provocation.' According to them he explains in his autobiography that in England people pretend that black people are full citizens. 'But he had found during his travels through the city that this was not true.'
The son and daughter later send a fragment from the autobiography in which Butturini writes how black people in England are being marginalised. 'You only have to walk around London to find them getting the most modest jobs: street sweepers, bus conductors, excavation workers in the city.'
By combining the photo of the black woman with that of the gorilla he was calling attention to the fate of black people, according to Tiziano and Marta Butturini. 'The black woman sold tickets at the entrance to the subway. But nobody looked at her. A gorilla in a cage got more attention than her. He meant the exact opposite of what they are now saying in England.'
Butturini himself also wrote a foreword in London. It says how he started taking photographs when he saw drug addicts at Victoria station. He had ignored all the tourist sights. 'I did photograph a black woman (in the Italian original: 'negra', ed.), locked in a transparent cage; she sold tickets for the subway: a prisoner alone who was extinguished, a silent and timeless island out of time amidst the waves of humanity that flow by and mingle and then split around her prison of ice and loneliness.'
'I have not photographed the Tower guards or the City bankers with umbrella and bowler hat.'
'I have photographed the Regent's Park gorilla, who, with imperial dignity on his frown muzzle, receives the quips and peels thrown at him by his nephews in ties.'
In his book, Butturini combined more photos on spreads that create tension: a man with a bowler hat juxtaposed with a hippie with a headband, a little girl opposite an old woman, a homeless person with all his belongings opposite a posh lady holding a magazine about antiques. 'Polemic combinations', he calls them in his own foreword. Also in the book: on the left-hand page two photos of a white couple, kissing in the park, and on the right-hand page a black couple sitting side-by-side on the grass, with the man smiling to the camera.
What Mercedes Baptiste Halliday and others are now saying about Butturini is incredibile, say his son and daughter. 'He was not against black people, he didn't discriminate. He always fought for the people who were excluded from society.'
They point to his photo documentaries about a failed army coup in Chile, about a resistance movement in West Africa, about the big miners' strike in England, about the revolution in Italy that put an end to abuses in psychiatry. 'All his life, he has only photographed people who need help.'
As additional proof they later send a photograph of the plaque that was placed on the façade of Butturini's birthplace by the municipality two years ago. 'In this place, in the heart of Brescia, Gian Butturini (1935- 2006) was born, a sensitive and authentic photographer who has crossed geographic and cultural boundaries to lend his gaze and his lens to peoples and people who are hurt in their dignity.'
The Dutch translator Harrie Lemmens has similar words to say. Through his wife he met the 'genial and exuberant' Italian and still fondly remembers his first visit to Brescia in 1984. 'Butturini had just made a film about a neighbouring village in which the villagers had taken part. He showed them the film in the village square, where he had hung up a sheet. The film was loudly commented upon. It was wonderful, a celebration.'
'He was a gifted advertising man and designer and he made a lot of money from that line of work. Later he became more leftist and joined the Communist Party. The book about London may be regarded as a transitional work.'
Lemmens deems it unthinkable that Butturini had any ill intentions with the spread. 'His photobooks testify to a high social commitment. It is bizarre that he, of all people, should be accused of racism. If he were alive today, he would probably be the first to join the anti-racist movement.'
*****
Paul Halliday understands why Butturini's son and daughter claim that he actually stood up for black people. They wish to 'preserve' his legacy, he says.
Perhaps the Italian photographer did not fully realise what the effect was of juxtaposing the photographs of the black woman and the gorilla, Halliday thinks. Once more referring to his training as an anthropologist he says that he knows exactly what the problem is. 'It has to do with getting into a new environment, not knowing the context, making a quick photo essay and publishing it to an Italian audience. I am not arguing that Butturini deliberately went out to offend black people in London. I say he misunderstood how offensive the paring was at the time and subsequentially.'
Isn't Halliday taken aback by the consequences his daughter's protest action has for Parr? His professional life has been destroyed. 'How Martin Parr will be seen in the future is directly related to how he deals with his own behaviour, his own past, and his own relations with people. I don't think this is an isolated case. I think there are a number of instances where he has said things, behaved in a certain way, that have been very problematic. People have to live with the consequences of what they have done.'
'The idea of a rock star photographer, who should be looked up to, who should be admired, who can do anything without any consequences, is over. This is a wake-up call for institutions, be it the BBC or Magnum, that they have responsibilities. There is now a debate that we have not seen before.'
Each time he hears Parr or another British photographer praise the blessings of contemporary British society, Halliday thinks something else, he says: that there is a 'system of cultural Apartheid' in his country. 'The Mercedes generation is not going to put up with it and I do no put up with it.'
*****
In Italy, the Butturini family was flabbergasted when they heard that Martin Parr had publicly labelled the spread as racist. Since 2006 they had been in contact with him as the result of his enthusiasm for Butturini's work and now they felt he was reneging that. 'Parr has failed to fight this campaign', say Tiziano and Marta Butturini. 'Why didn't he tell us what was going on? We could have helped him.'
In Italian newspapers there was an outcry about the accusation of Less Than Human Debate. The family claims to have received dozens of reactions from people and institutes defending Butturini. A gallery owner from Brescia wrote to Parr to tell him that he should have denied the accusation. De Volkskrant has his email, and the Brit's response to it.
In his reply, Parr says that the spread, on its own, certainly has 'racist implications'. He also writes that the pressure on him in Great Britain has increased over the past four months. 'In light of the Black Lives Matters protests I had no choice but to accept the problem with the spread and apologise.' He expresses his regrets to the gallery owner and to the Butturini family. 'But my career was being shattered and I am having to live out the fallout from this very difficult and unpleasant confrontation.'
In the eyes of Tiziano and Marta Buttturini the Brit has lost his dignity. 'He wanted to protect himself, save his photo festival. For that he sacrificed all the good work of Gian Butturini.'
Later, Butturini's widow, Manuela Moreira, sends an email expressing her concern about the so-called 'cancel culture', the ostracising of people exposed for allegedly having done something offensive. In her view it is a return to the past: 'Religious passion, denunciations, censorship, indifference to art, ignorance'. She calls upon people to speak out against this.
The remaining copies of the reprint of London that publisher Damiani still had, are now with the family. They are looking for a new distributor, say the son and daughter. Shortly after that there is an announcement on gianbutturini.com, their website about the work of their father, that the book can be ordered by sending an email. The website is in Italian only, but the heading above this announcement is in English: 'God save the book.'
Translated by Leo Reijnen
Idents
Martin Parr is not only a photographer and collector of photobooks. For BBC1 he has made short films that are broadcast between programs. These funny spots, so-called 'idents', showcase British identity and diversity. Besides photobooks, Parr has also collected thousands of other objects, ranging from cigarette boxes illustrated with Russian space dogs to dull postcards. An exhibition about this collection, 'Parrworld', has toured several countries, including the Netherlands.
Magnum under fire
The photographer's collective Magnum, of which Martin Parr is a member, has also come under fire. Magnum allegedly admitted not enough photographers of colour to their ranks. And among the photographs of the collective that are for sale an image was discovered of a topless girl. It is a photograph from 1989, taken during a report about prostitution in the Thai capital Bangkok. The girl could still be identified, which supposedly is against UNICEF guidelines. Magnum has meanwhile announced that it will take a critical look at its – enormous – photo collection.