Dutch police works together with Russia's FSB, despite political tensions
Despite political tensions with Russia, the annexation of Crimea and the shooting down of flight MH17, the Dutch police service appears to be working closely together with the Russian security service FSB. Since 2009, FSB agents have been visiting the Netherlands, where they have also been meeting with officials of the FBI.
These meetings, intended to tackle cybercrime, are laden with political controversy and have been cause for concern at the ministry of Foreign Affairs of the Netherlands, as well as its intelligence service, the AIVD, according to an investigation by de Volkskrant, for which the newspaper spoke with nine persons involved.

The police have agreed to inform the AIVD of FSB visits and to report on them afterwards. Since flight MH17 was shot down, the meetings no longer take place in Driebergen, which is also the location for the criminal investigation into flight MH17. This is to prevent FSB agents getting too close. The Russian FSB is a combined service; on the one hand the KGB successor does police work, such as tracking down criminals, and on the other hand it is a secret service that collects intelligence and engages in espionage. This complicates the relationship with the Dutch police.
Unique cooperation
The cooperation with the FSB and FBI started in 2009 to apprehend cybercriminals. It is unique for Russians and Americans, who still meet in the Netherlands, to exchange information on this scale. Their relationship has been tense since the annexation of Crimea by Russia. Due to the sensitivity of the meetings, the police rooms where they were held were turned inside out afterwards by sweeper teams checking for bugging devices.

The first criminal the Dutch police and the Russians tried to track down, was the Russian hacker Evgeniy Bogachev. His reputation is notorious: with his organization, he's acquired approximately several hundred million euro, using for example ransomware. Dutch bank ABN Amro was one of his victims, police documents show. There were a lot of American victims as well, ranging from universities to police offices.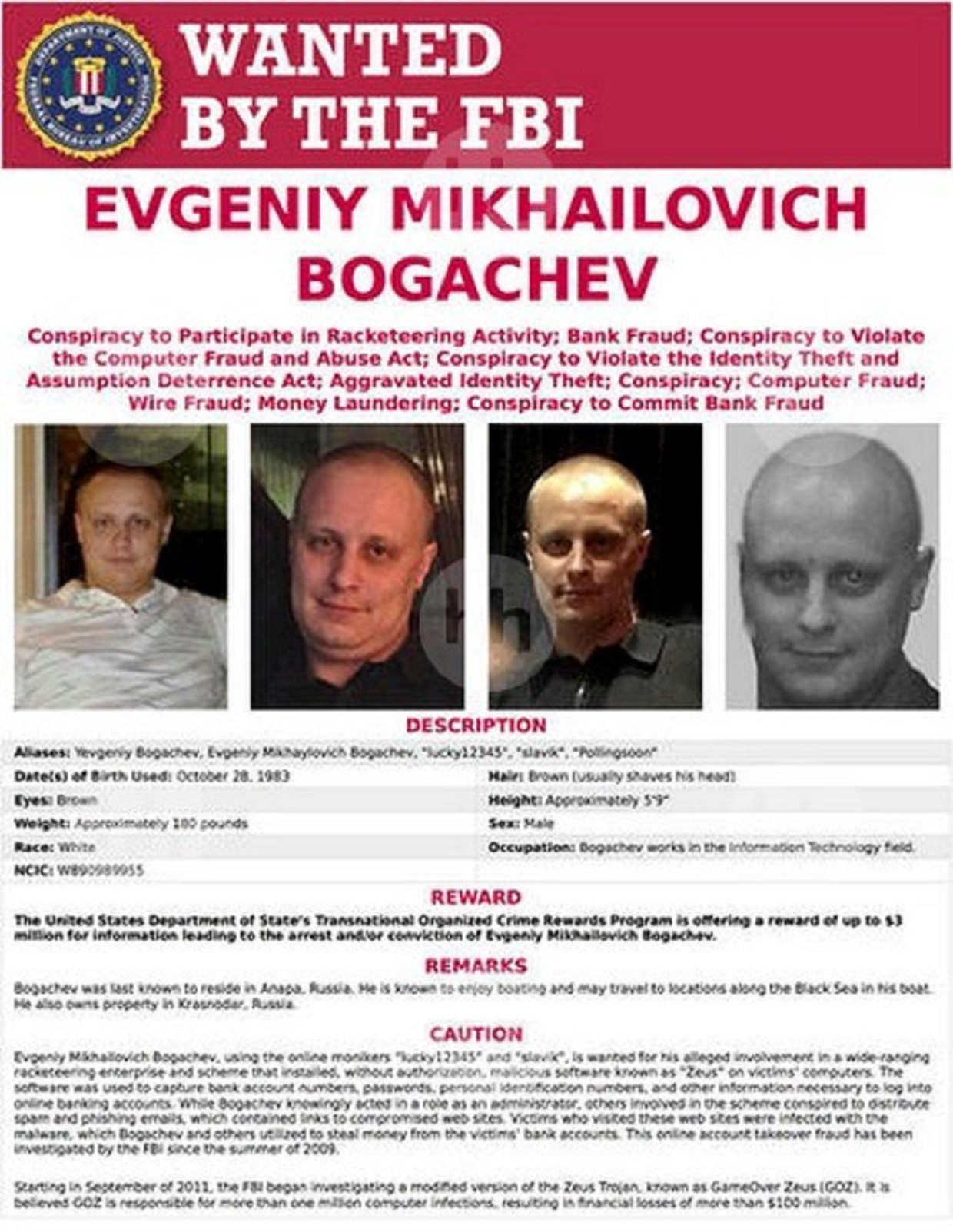 It was not known until now that the Dutch police were on Bogachev's trail as early as 2009, because Russian criminal communication went via a Dutch internet provider. This showed a network of Russian cyber criminals, led by Bogachev. The network grew with time. But the Russians did not arrest him. This happens often, according to several involved sources: Russians would rather have powerful hackers working for them than have them in prison.

Former president Obama placed Bogachev on a list of sanctioned individuals, which meant that there were financial restrictions in place against him. It was also a symbolic step: the list features those who threaten the USA's safety. The FBI has offered a three million dollar reward for information leading to Bogachev's arrest. He is probably currently residing in the vicinity of the Russian city Anapa.
De jacht op 's wereld meest gezochte hacker
Om cybercriminelen te vangen, werkt Nederland nauw samen met Rusland, het hackersland bij uitstek. Een uiterst ongemakkelijke samenwerking, blijkt uit de jacht op Bogatsjov. (+)
Arrest
The intricacies and sensitivity of the cooperation between the Dutch police, FSB and FBI are illustrated by the arrest of the most important Russian contact for the Dutch police. Sergei Mikhailov was arrested suddenly in December 2016 for 'high treason', according to Russian media. Dutch police are still unaware why he suddenly disappeared and what has happened to him.

However, the relationship with the FSB has not suffered because of Mikhailov's arrest, says Team High Tech Crime leader Gert Ras. 'The cooperation has become better and more professional with the years, despite political tensions. In 2016 we provided information about Russian cybercriminals, for example. They have been apprehended.'

The AIVD's rapport with Russian agencies is very different. Information is exchanged only in the case of combating terrorism. 'It's very good that agencies provide each other with information in case of imminent danger', says an AIVD spokesperson. 'This intent has been discussed by the Russian services and the AIVD as well.'